Hiring remote employees is good for business.
When Mercer, a consulting firm that focuses on HR and workplace advantages, surveyed 800 employers, 94% of them — 752 employers — agreed. According to them, not only will an employer save millions in the process, but they will also benefit from better employee performance and 27% higher productivity.
Looking to bolster your business with the power of a remote workforce?
Then, this article is for you.
Here, we'll discuss the benefits of hiring remotely and effective ways of remote hiring. We'll also explore the challenges involved in hiring, how to attract talent, and improve remote employee retention — everything you need to know about hiring remote workers.
Why Should You Hire Remote Workers?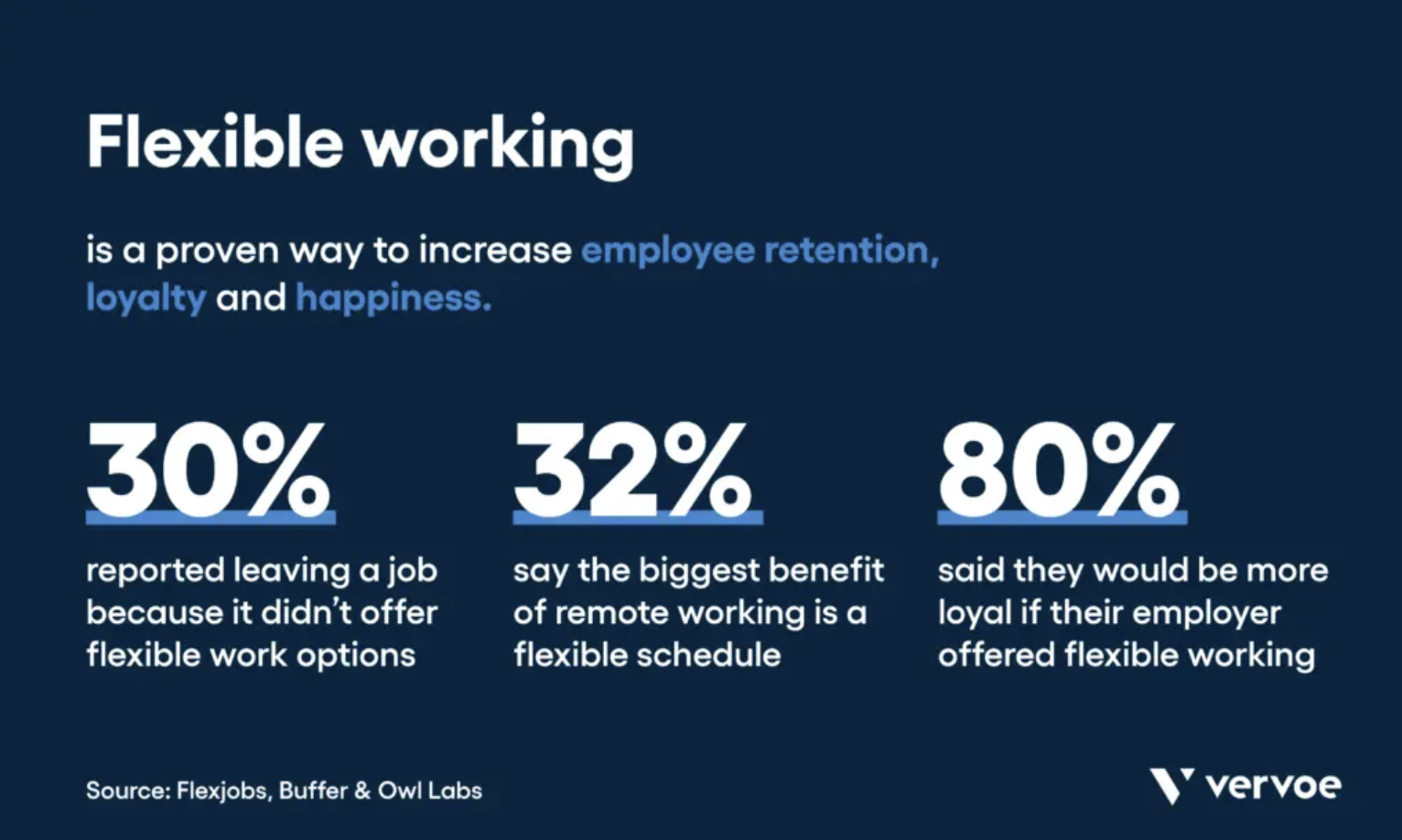 Source: Vervoe
The digital era is here. Nowadays, almost every employee can work anywhere with a stable internet connection. And because an increasing number of businesses shifted to a digital-first approach (and benefited from it), you need to consider doing the same.
If you refuse to adapt to a digital-first approach, you're left with outdated methodologies that soon will become obsolete and useless. You'll also set aside all the good that remote hiring brings.
Key Benefits of Hiring Remotely:
Reduce overhead and direct costs – Eliminate the need to compensate for in-house services like accounting, tax, and repairs. With remote workers, you can also save money and not have to pay for electricity, office furniture and supplies, and more.
Boost employee happiness – Allow employees to create and customize suitable work environments for themselves. When happy, they can perform better and be more productive.
Introduce a better work-life balance – Provide employees with the opportunity to achieve a sense of fulfillment. Hiring remotely also grants them to consider better options regarding their health and living situations.
Minimize employee turnover rate – Offer remote working opportunities to experience lower turnover rates. 50% of employees, especially Gen Z and millennials, also say they will switch to a job that offers remote working in a heartbeat.
Discover multinational talent – Remove geographical and time zone barriers and use the services of experts around the world. Google, Apple, and other behemoth corporations do this to grow their workforce.
Create a workforce diversity – Hire employees from other ethnicities, cultures, and lifestyles to see matters from a different perspective and gain valuable knowledge about your work. Taking advantage of highly qualified workers unwilling to report for face-to-face job arrangements (examples are those with rare medical conditions and physical deformities) is also an open-minded and compassionate move.
Gain a competitive advantage – Access a larger talent pool at a time when many employers are having difficulties locating qualified employees. Chances are, you can find the best candidates to work for remote companies in multiple locations all over the world.
Remote Hiring Process Tips
Remote work has many benefits. Because of this, it's understandable why employers are making waves on job boards to offer remote jobs.
Tips to Improve the Remote Hiring Process
Include an "easter egg" in your job description – Post job ads with an easter egg or a hidden message to know if an applicant read through your entire post. Use something simple like "place a name of a specific location at the start of your application.".
Clarify expectations – Inform potential candidates what and how they can execute work for you. Lay down some ground rules and allow them to ask questions. It's extremely important to get on the same page with a remote worker.
Hire in groups – Find remote workers that vibe well with each other. This is especially useful when you're looking to set up a remote global team. Hiring in groups not only helps you identify the people who could work harmoniously, but it also reduces anxiety in applicants.
Hire in different places – Create open positions for everyone regardless of their location. Don't limit yourself to hiring local candidates. Consider hiring anyone who can accomplish the work you expect.
Ask for a video – Request a 3-minute video where an applicant tells you why they're interested in working remotely and as part of your remote team. Sometimes, videos are more effective because they can show you how an individual's mannerisms and behavior.
Schedule virtual and video interviews – Use scheduling tools like Calendly and Sprintful to set an interview process in motion. If you're conducting recorded interviews, be attentive to body language and other non-verbal cues.
Don't neglect soft skills – Identify self-starters, effective communicators, and team players. Also, focus on those excellent in time management, problem-solving, interpersonal skills, and adaptability. These are as commendable as an outstanding educational background, extensive work experience, and a line of academic decorations.
Challenges to Take Note of When Hiring Remotely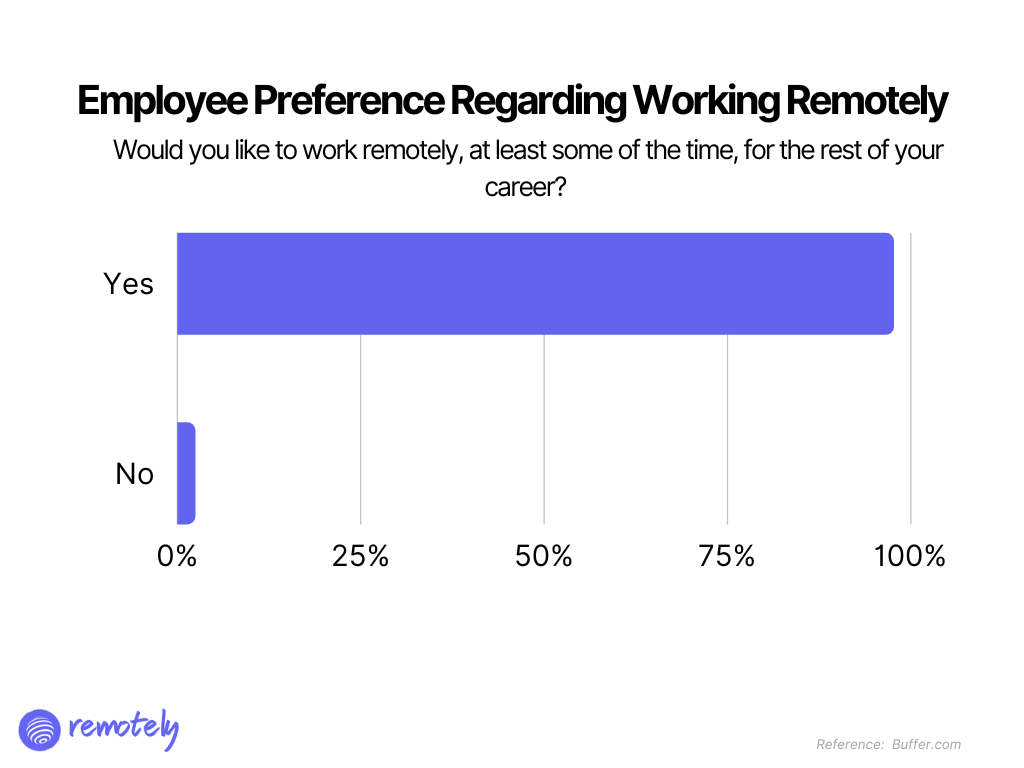 Source: Buffer
The enthusiasm of 97.6% of remote employees who like to work remotely, at least sometimes, for the rest of their careers may be admirable. They appreciate flexibility — with their schedules and where and when they choose to work.
But, many employers still face challenges during the hiring process. While there are people willing to work remotely, the process of officially giving them work isn't effortless.
Common Challenges Businesses Encounter When Hiring Remotely:
A massive number of applications – Limit the number who can apply to work remotely at your company. This is often a problem in global hiring processes. While it's great that more applicants are showing interest in your job offer, it can be tedious to sift through hundreds (or thousands) of resumes.
No rigid hiring decisions – Set hiring decisions based on your ideal remote worker and remote workplace. And correct your hiring approach if you are unsatisfied with your previous hires. For example, hire remote workers for their skills and not for their work history.
No effective skillset evaluation methods – Gauge an applicant's skillset accurately to determine if they're the right fit for your company. Be attentive to things like their level of execution, quality of work, and responsiveness to your feedback.
Differences in time zones – Learn about the time zone an applicant follows or let it be the other way around. Both parties must meet to discuss the work involved.
Onboarding process difficulties – Simplify onboarding. Creative approaches include encouraging new hires to sign up for a mentor-mentee program.
Additional work expectations – Disclose extra work expectations and other key elements on your job postings or before officially bringing in remote workers to your company. Ensure they understand everything you expect of them.
Complicated salary distribution – Address concerns with salary distribution. In a remote arrangement, the subject of salary distribution can arise because of differences in currencies, nationalities, tax obligations, and time delays. You must clear the air as early as possible.
Offenses against a local employment law or a legal entity – Avoid letting local regulations and local laws hinder the hiring process. Consult with a professional employer organization or hire people who can offer Employer of Record (EOR) services.
How to Attract the Best Talent for a Remote Job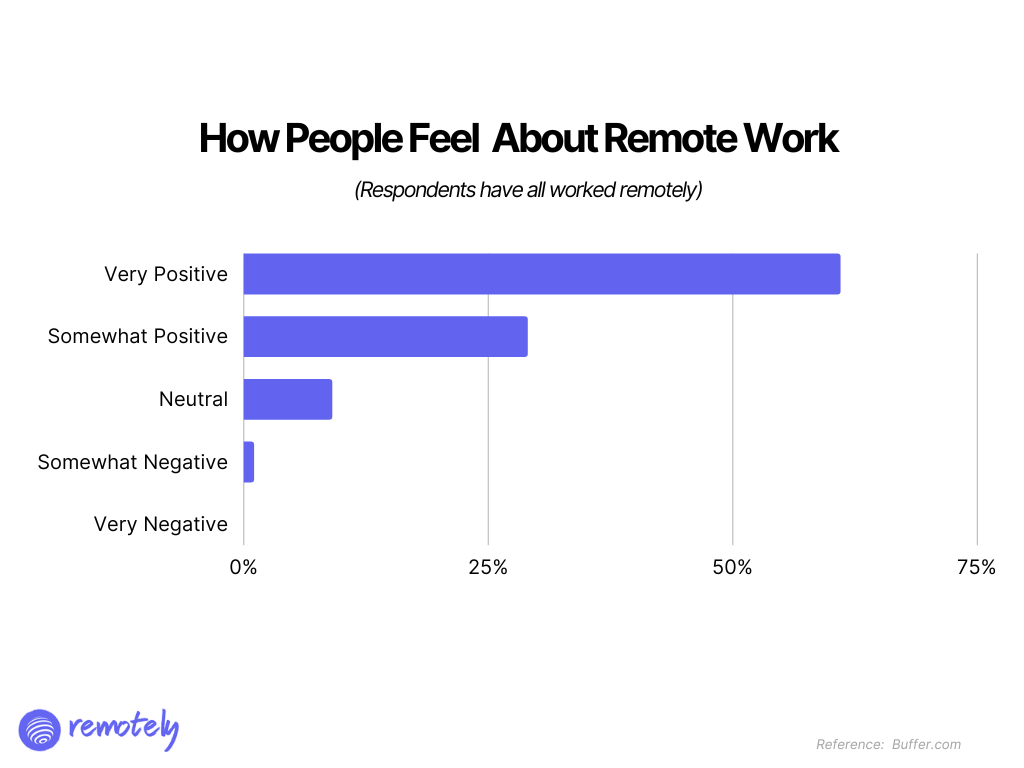 Source: Buffer
It's great if your post on job boards garnered lots of attention. But, this isn't always in your best interest. For all you know, the attention you're getting is from mediocre applicants — job seekers unwilling to put their best foot forward for you. You don't need or want that.
Look for applicants committed to going above and beyond for you. Some people will do more than just the bare minimum, and they deserve a spot in your company.
Tips On How To Attract the Best Talent
Make remote work effortless – Review the work of your existing employees and design a system to uplevel this for new hires. Also, consider adopting flexible remote work or work-from-home policies like 73% of employers.
Offer better compensation – Justify your remote employees' compensation packages. Give bonuses, increase base pay, provide a few days of paid vacation, and more.
Mind their mental health – Support remote employees and prevent employee burnout. You'll be a more attractive employer if you offer a surefire way to circumvent burnout given the fact that (at least sometimes) 76% of employees report experiencing burnout.
Create a welcoming company culture – Embrace every new employee and make them feel as welcome as possible. Eliminate any toxic work approaches and help them appreciate company values and your company's mission.
Support professional development – Provide up-skilling opportunities and point them toward the most helpful online courses. Help them sharpen their skills so they can help you more effectively, too.
Provide stipend for remote work setup – Cover expenses for office chairs, high-performance keyboards, noise-canceling headphones, and other equipment that can improve employee performance and productivity. A decent work setup is crucial.
Retaining Employees in Remote Jobs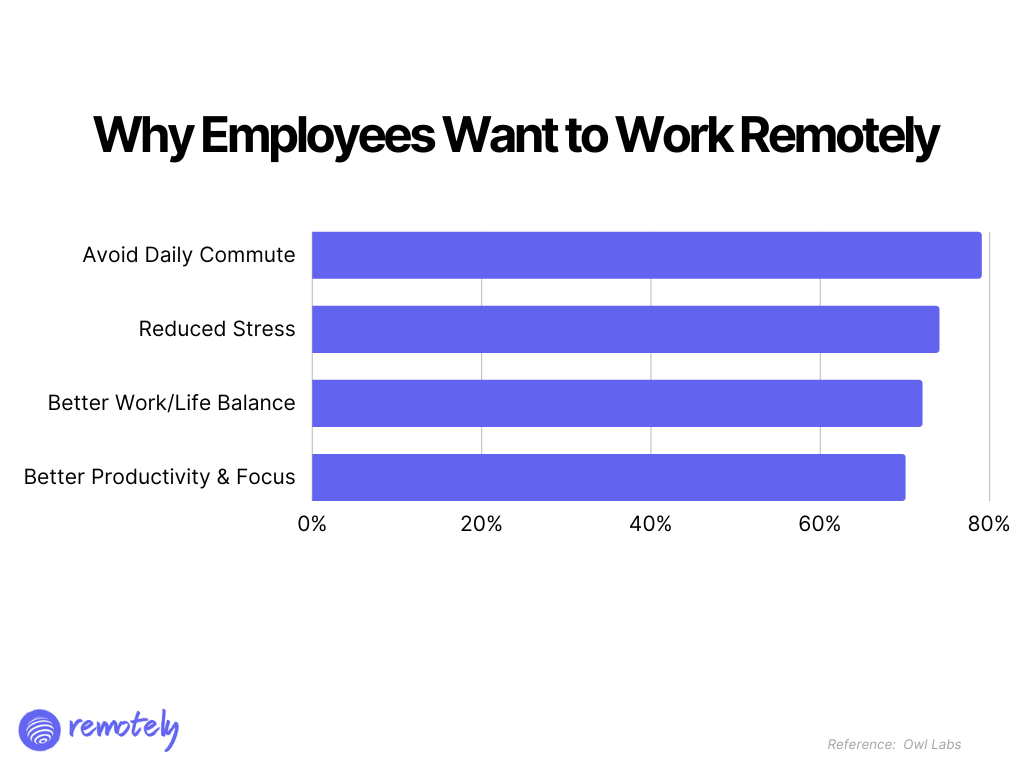 According to Pew Research, a non-partisan think tank that disseminates information about demographic trends and social issues to the public, 19% of non-retirees left their jobs by choice. They didn't pack their bags because of corporate downsizing, temporary employment, or termination. They left their jobs because they disliked the working conditions.
The takeaway for someone offering work? Do better. If you don't elevate your approaches as an employer, employees may soon call it quits.
Tip On Improving Remote Employee Retention
Prioritize effective communication – Implement communication policies, conduct fewer meetings (that don't bring value) set communication standards, and establish uniform avenues of communication. The objective is to make sure all your team members are working toward the same goal. After all, the World Health Organization lists poor communication as one of the biggest detriments to employee mental health.
Offer home service perks – Contract third-party companies to offer services that can benefit remote full-time employees. Examples of perks you can provide are food deliveries and fitness sessions.
Provide timely payments – Offer certainty to remote team members with a professional approach to payments. This is true for other business-related affairs. Be earnest and direct.
Invest in ongoing training – Help employees become highly skilled professionals from the moment they first step into your company. The idea is to make the employee experience as memorable as possible.
Use team-building frameworks – Build the morale of remote teams and acknowledge the role of each team member. Examples of team-building activities are online office games, typing speed races, and coworking projects.
Welcome suggestions regarding employee benefits – Be open to giving benefits to remote employees. It's also a good idea to directly ask them what they want and consider their answers. Just be sure to acknowledge that not everyone wants the same employee benefits.
Take your cue from companies like Hubstaff, Buffer, FlexJobs, and Ghost — you can definitely learn a lot from these remote-first companies, whether you're an employee looking for remote work opportunities or a business dipping your toe into remote work policies.