A global pandemic has prompted a fundamental shift in the way businesses and offices operate.
Out of necessity, companies had to explore new business operating models that ultimately led to innovations in technology and work. This advancement not only led to impressive solutions for collaboration but new remote working opportunities. And at the top of the list are virtual assistants.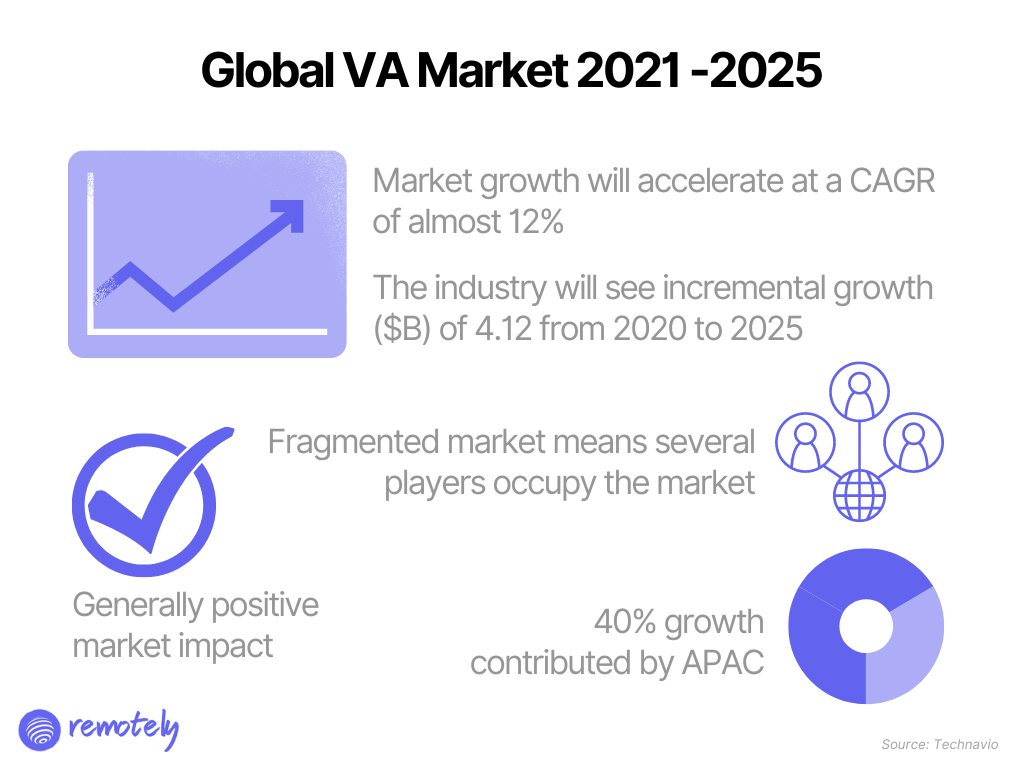 Source: Technavio
Armed with digital know-how and specialized logistics skills, virtual assistants are generally independent contractors who deliver administrative work to their clients on a remote basis.
The rise can be credited to numerous companies looking for ways to cut down on costs while maintaining optimum operational efficiency. With virtual assistants, businesses didn't have to hire and pay the cost of a full-time employee. It also allowed organizations to save money while tapping into global talent.
According to statistics, virtual assistants can save businesses up to 78% in operating costs. Combine that with the fact that employees who work remotely are shown to be more productive, then it's no wonder that the industry is now worth over $100 billion.
If this sounds like a career path that you're interested in exploring, this guide can help break down the steps necessary to understand the basics of this job and how you can find opportunities as a virtual assistant.
What Is a Virtual Assistant?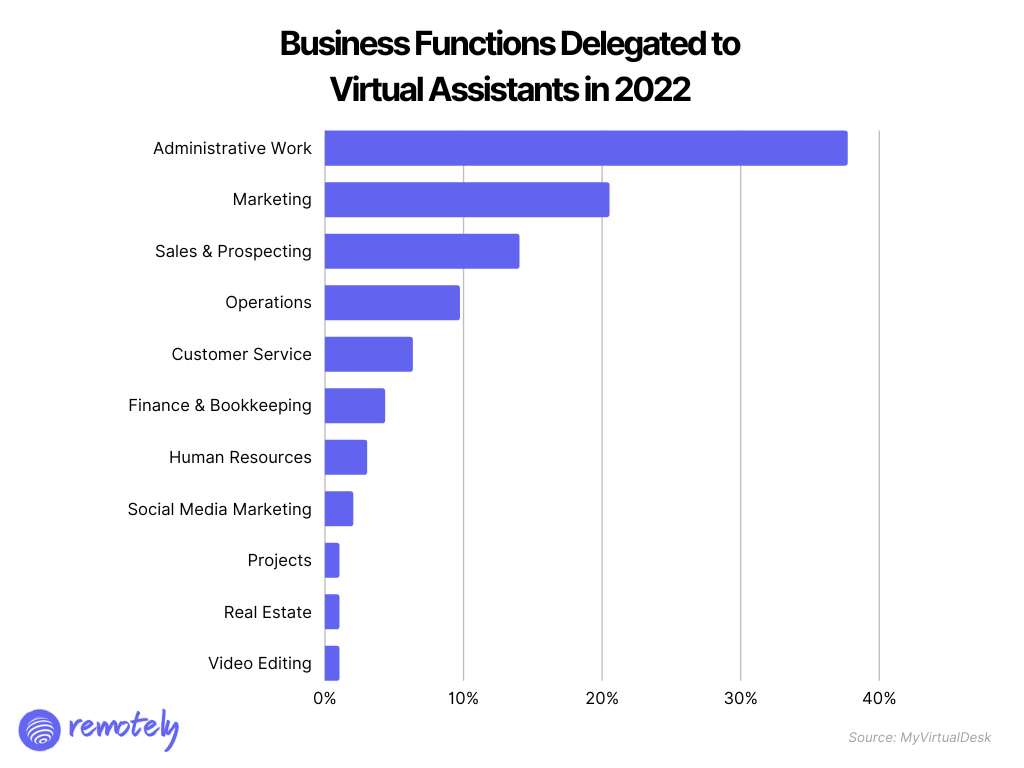 Source: MyVirtualDesk
Virtual assistants or VAs provide administrative work remotely. They usually do the work of traditional in-office assistants and can be hired as full-time employees, part-time, or independent contractors.
The key differentiator here is that they work virtually. To that end, it is possible for a virtual assistant to work with more than one company, if they have the experience and capability to efficiently balance and organize their workload across different employers
If there is anything the COVID pandemic has taught businesses, it's that work can be done from almost anywhere with a reliable Internet connection. It also reinforced confidence in the tools available to support this working model and opened opportunities for more companies to discover talent from all over the world.
This shift to working remotely is a trend that is going to be around for a long time because of its many advantages over traditional office operations. Working remotely allows employees to work with flexible schedules and gives them the freedom to choose their working hours. In the long run, this level of flexibility boosts and improves employee morale and productivity. Additionally, it improves mental health as the work environment is more familiar and therefore less strenuous for the employee.
Paired with software designed to specifically facilitate better remote working conditions and relationships, today's virtual assistants can capably take on more than just administrative tasks. VAs have since expanded to include other fields such as sales and marketing, design and advertising, and writing and editing, just to name a few areas of specialization.
Roles of a Virtual Assistant
Traditionally, the tasks under a virtual assistant's purview fall under the same job description expected from traditional, in-office assistants. Some of the key responsibilities therefore will include:
Managing calendars and schedules
Keeping and maintaining daily entries and records
Handling clients' email correspondence
Booking travel accommodations
Responding to emails and phone calls
Answering and making phone calls
Organizing files, spreadsheets, and documents
Customer research
Manage contact lists
Maintain online records
Create presentations, as assigned
Virtual Assistant Skills to Develop
As a virtual assistants, it's important that employees have and develop the following skills:
Communication Skills
Being a fluent communicator is your strongest asset as a virtual assistant. You must be outstanding in both written and verbal communication. Because of the nature of your job, you'll be in constant communication with your clients and customers. It's therefore important that your communication skills are top-notch.
Social Media Management Skills
Basic knowledge of how to manage social media profiles can come in handy as a VA. This can include status updates and responding to customer queries as well as updating social media information to ensure everything is up to date.
Organization Skills
As a virtual assistant, you will be managing calendars, planning events, and making travel arrangements. Efficient data entry using basic tools such as spreadsheets and word processing software is often used.
Time Management Skills
Great time management is essential for virtual assistants. Remember, working remotely means you are exposed to more distractions and you're solely accountable for your output. Not knowing how to juggle multiple tasks and multitask effectively can reflect poorly on your ability to do your job well.
Computer Skills
Computer skills are a core skill critical to becoming a successful virtual assistant. Working remotely means you rely on software and a reliable Internet connection to do your job. As a VA, you have to know how to use your computer and all the necessary tools needed to effectively execute tasks.
Critical Thinking
Working with a global workforce means time zones may not always be aligned for VAs and their employers. Virtual assistants often need to think on their feet and make organizational decisions critical to operations on behalf of management. This is where critical thinking comes in.
Accounting Skills
Understandably, accounting is a very specialized skill, however, handling of invoices, bills, orders, and spreadsheet management may be necessary from time to time as a virtual assistant. Having basic accounting skills will definitely be advantageous.
Administrative Skills
This is a core function of virtual assistants and it should also go without saying that administrative work will play a huge role in establishing yourself as an effective virtual assistant.
Creative Skills
Typically, creative skills are required from dedicated creative employees such as designers and writers, editors, or art directors. However, a basic understanding of creative principles can help virtual assistants stand out from the competition.
Benefits of Becoming a Virtual Assistant
Virtual assistants as a viable career path can be attributed to the following advantages:
Having the Option to Work Remotely
The statistics speak for themselves—97% of employees don't want to return to the office full-time. Adopting a remote or hybrid working model is now preferred. Having the option to work in the comfort of your own home makes it easier for many employees to balance time.
Better Working Hours
For many, the traditional 9-to-5 setup tends to feel rigid. Working remotely often gives employees the option to work better hours.
Set Better Rates
Together with better work hours, many remote employees also have the option to negotiate better rates for their services. Having the option to choose who to work for, for how much, and scale the services that they offer is a key advantage.
Save On Transportation
One of the biggest costs that employees have to factor in when working is the cost and hassle of traveling to and from the office. Often, the commute is also considered strenuous, expensive, and depending on the severity of traffic in the area, a time-waster. This consideration is wholly eliminated as a remote employee and is considered a key benefit of remote work.
How Much Do Virtual Assistants Earn?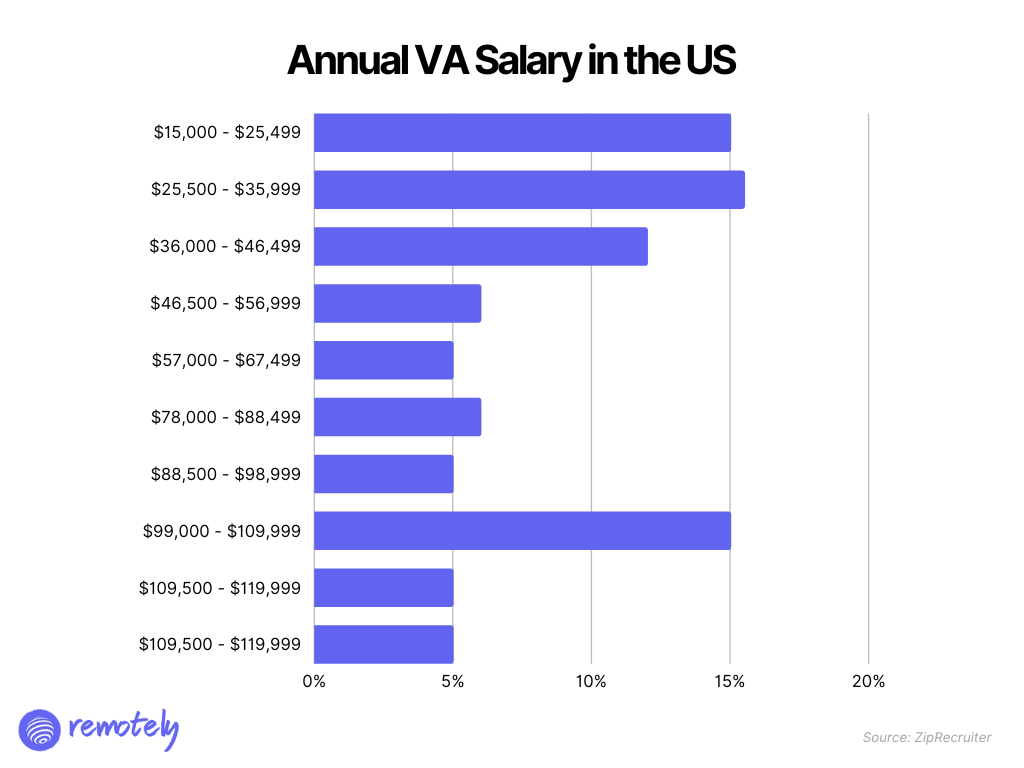 Statistics show that on average, a virtual assistant makes between $25,000-$65,000 a year.
This figure can increase depending on the specialized skills that an employee brings to the table.
How to Get Started as a Virtual Assistant
Below is a step-by-step guide on how to become a virtual assistant:
Understand What Skills and Services You Bring to The Table
Despite being a fairly new industry, competition in this field is tough. Consider what skills help you qualify as a VA and what skills make you stand out from the competition and align this to the needs of your prospective clients or employer.
Create An Impressive Resume
Just like any job, you need to sell your most marketable skills via your resume. Your resume should be simple, concise and drill directly down to your skills and experience. Try to tailor your resume to suit specific industries as well.
Look For Prospective Clients
Beyond the typical job sites, potential employers who are looking for virtual assistants are more likely to explore non-traditional job boards. For instance, more forward-thinking employers who are open to remote working opportunities or start-ups who don't want to compete with blue-chip organizations for talent will likely consider posting on newer, remote work focused sites.
Determine Your Rate
Working as a virtual assistant gives you the liberty to set your own rate. To set the correct and fair rate, consider the type of service you offer, your skills and experience, and the scope of your work against the industry average.
Continuous Learning
You don't necessarily need a degree to be hired as a virtual assistant. However, having a clear willingness to keep learning and staying on top of the latest industry trends and software is a significant advantage. Digital skills keep evolving and great VAs need to be updated if you are to remain relevant.
Build Your Reviews or References
Once you have been hired, you can ask your clients to give you feedback, which will help as testimonials and build your credibility for future work opportunities.
The Next Steps: Where to start?
Armed with all the tips and information provided in this guide, your next step is to know exactly what your next step should be. Start with the following:
Looking For Job Listings
Start online. While recommendations are definitely a great leader, the Internet is a great place to discover virtual assistant jobs. Some sites to consider are:
Upwork – One of the biggest freelancer marketplaces with a credible reputation
Zirtual – A dedicated virtual assistant agency
Fiverr – A popular freelancer platform
Social media platforms like Linkedin, Facebook, and Twitter also offer good opportunities
Email cold pitching to prospective clients
Tools to Use
The very nature of virtual assistant work means VAs are reliant on software and online tools to help carry out tasks efficiently. Apart from having a computer and a stable Internet connection, top software picks include:
Time tracking tools like Time Doctor, Hubstaff
Financial tools like FreshBooks, Wave
Scheduling tools like Google Calendar, Candidly
Conferencing tools like Zoom, Skype, Microsoft Teams, Google Meets
File sharing tools like Dropbox, Google Drive
Document signing tools like DocuSign
Invoicing tools like PayPal
Storage tools like pCloud, CamScanner
Project management and collaboration tools like Slack, Trello, and Google Workspace
Tips, Guidelines, and Best Practices for Virtual Assistants
The following tips and best practices will guide you in your journey to becoming a successful and reputable virtual assistant:
Communicate regularly with your clients and customers
Use the right digital collaboration tools
Manage expectations and provide reasonable deadlines
Learn to delegate tasks accordingly
Document your processes
Trends to Look Out For
Virtual assistants serve a critical role in organizations and are integral members of many businesses. More than just a passing business trend, virtual assistants are definitely here to stay, and it would be worth paying attention to the trajectory of this particular field given the following trends:
Increasing Number of Freelancers
Statistics show that by 2025, technology will displace millions of jobs globally. However, if you are armed with digital skills like the majority of virtual assistants, this shouldn't bother you. There will be a variety of new opportunities to showcase specialized skills.
Improving Internet Connectivity
The percentage of countries with great internet connectivity is higher than it was a few years ago. Common concerns regarding remote employees are easier addressed with better connectivity—from communication issues to availability. Continuous learning can also be done online doing away with the need to do it in physical locations.
More Focus On Flexible Work Schedules
Working remotely as a virtual assistant is one of the biggest shifts in the workplace thanks to technological advancement. Shifting from traditional brick-and-mortar offices and businesses has allowed people to work according to their own flexible schedules and minimize company overhead expenses.
Security and Accessibility
With more people working remotely, online security while maintaining accessibility became more of a priority for many businesses. In the future, expect more companies to explore the use of voice biometrics, designing virtual identities, and visual avatars as security measures for their sensitive data.
Defining a career as a virtual assistant is certainly a promising prospect. But be sure you're armed with the best information available if you're an aspiring VA.