HR coordinators are the muscles that keep a company's HR department running. They work as the aids of HR managers, assisting them in day-to-day activities like recruitment, payroll processing, administrative tasks, and more. Without them, an HR department will have a hard time running smoothly.
If you're looking for fresh talent to fill empty HR coordinator positions, the most important thing you need to do is craft a perfect job description.
And that's exactly what we'll be doing in this article from Remotely. Here, you'll find a complete profile of the HR coordinator job.
What Does an HR Coordinator Do?
HR coordinator roles and responsibilities involve facilitating just about every HR function in the company, ranging from administrative support for employees, to recruitment.
But that's not the full extent of their job. Depending on the needs of the company, HR coordinators can be tasked to handle tasks that include the following:
Responding to Internal and External HR Requests
When an HR-related request for assistance or inquiry is sent to the company's HR department, the HR coordinator will respond to them. No matter if it's dispatched from inside the company (internal) or outside (external).
For example, internally, an HR coordinator can aid employees with processing leaves of absence or help them with any HR-related issue that may arise (matters relating to payment, taxation, benefits, etc.)
Externally, an HR coordinator can work with agencies to ensure that the company complies with labor laws.
Staffing and Recruiting
HR coordinators typically play a major role in a company's recruitment drive. Their functions can include:
Scouting for talent
Communicating with prospective candidates
Performing background checks and shortlisting
Scheduling meetings and interviews
Participating in the orientation, training, and onboarding of new hires
Organizing the files of new hires and issuing new employment contracts
Assisting HR Managers
HR coordinators act as assistants to HR managers. During day-to-day work at the office, HR coordinators will take mundane, low-level administrative tasks off the hands of HR managers to help them focus on the bigger picture.
If there's any issue that the HR coordinator can't solve alone or has no authority to resolve, they can ask for the help of HR managers and work collaboratively with them to address it.
Maintaining Employees' Files and Preparing HR Reports
HR coordinators can create and maintain employees' files and data (compensation, benefits, paid and unpaid leave etc.) on paper and digitally. Whenever there are changes, they will also be the ones to update the files.
Periodically, HR coordinators will prepare and submit HR reports to higher management. These reports can include turnover rates, performance assessments of each employee, amount of leave, etc.
Remote HR & People Jobs
Scroll below to find the latest remote jobs.
HR Coordinator Job Requirements
HR coordinators are considered an entry-level position, so the requirements are typically quite lax.
Education
Most openings for HR coordinators these days require the applicant to have at least a Bachelor's in an HR-related field (human resources, finance, business management, etc.)
In some companies, HR coordinators can work closely with higher management and aid them in making important decisions. In that case, a Master's degree with a concentration in business management may be expected.
Those with only a high school diploma can still apply and be selected as HR coordinators. But these cases are rare, and the chosen candidates typically have excellent working experience or special achievements to compensate for the lack of a college degree.
Skills
Besides having a solid education, an ideal candidate should display the following skills.
Communication skills: An HR coordinator spends a huge chunk of their day talking, writing, and calling different people. Good verbal, listening, and writing skills are must-haves.
Interpersonal skills: An HR coordinator is a liaison between employees and management. They also function as the "guide" for new employees. Because of this, the ability to foster and maintain good interpersonal relationships is crucial.
Organizational and time management skill: HR coordinators are usually delegated the task of setting up HR-related events like meetings and interviews.
Attention to detail: One of the many duties of HR coordinators is maintaining a database of employees' information, performing background checks, reviewing resumes … All of these tasks require single-minded focus and great attention to detail.
Decision-making skills: HR coordinators have a hand in resolving disputes in the workplace and selecting candidates to interview or hire. They'll need good decision-making skills to do all of these tasks well.
Technical skills: Some companies use software solutions, like HRIS (Human Resource Information System) software and ATS (Applicant Tracking System). Familiarity with these software are great pluses.
Experience
Most job postings will tell the applicant that they must have 2 to 4 years of relevant working experience.
However, HR coordinators are at the bottom rung of the career ladder in the HR field, so most companies usually aren't very strict about the applicant's experience. Fresh graduates can supplement the requirement with internships in HR-related positions.
Training/License
Since HR coordinators are entry-level positions, there isn't any mandatory training or license. But if the candidate has certifications to show on their HR coordinator job description resumes, like the Certified Professional – Human Resource (IPMA-CP) or the Society for Human Resource Management Certified Professional (SHRM-CP), their credibility will increase—and so will their chance of gaining an interview.
HR Coordinator Salary Benchmarks
The salary data is valid as of November 8th, 2022.
An average HR coordinator in the US makes about $50,981 per year, which includes $48,422 in base pay and $2,559 in additional pay.
Most HR coordinators can expect to be offered between a minimum of $44,000 to as much as $59,000.
Many factors contribute to the final pay that's offered to an applicant that passed all of the interviews, ranging from the company's size and its pay philosophy to the years of experience that the candidate has. But among the most influential factors (especially if they're a remote worker) is their location.
Here's a location-based salary benchmark to give you an idea of how pay is different depending on where the worker lives.
| | |
| --- | --- |
| Location | Salary (per year) |
| San Francisco, CA | $79,619 |
| New York, NY | $58,516 |
| Boston, MA | $54,275 |
| Chicago, IL | $59,117 |
| Dallas, TX | $57,693 |
Job Listing Examples
If there are openings for remote HR coordinators in your company and you're looking to put up a job ad, it'll be worth looking at examples across the Internet and see how others are doing it. The better you phrase your needs and requirements, the more applicants you'll get.
You can look through Remotely's job database to look at ready examples. Alternatively, you can take a gander at some of the great examples we found from our partners.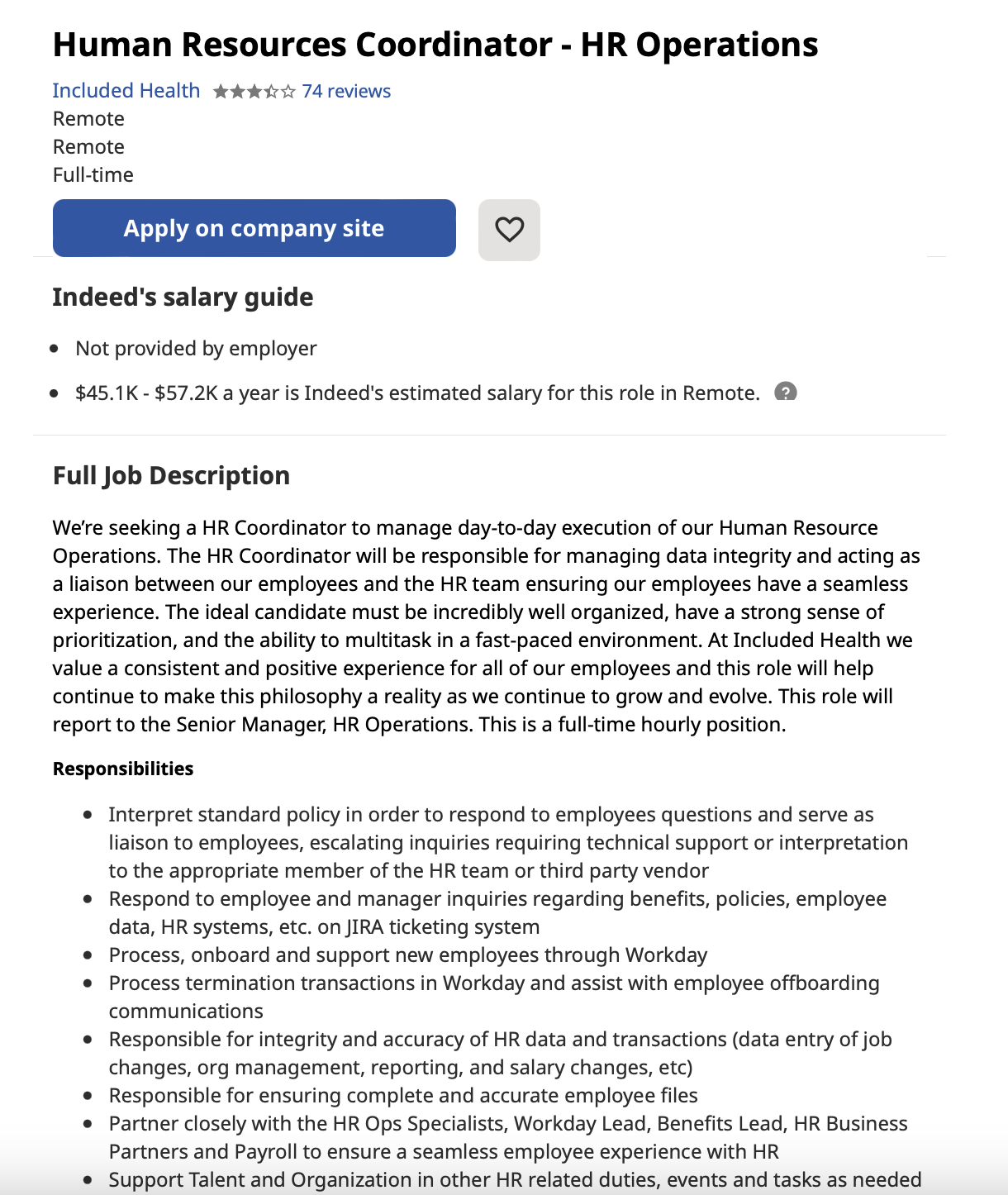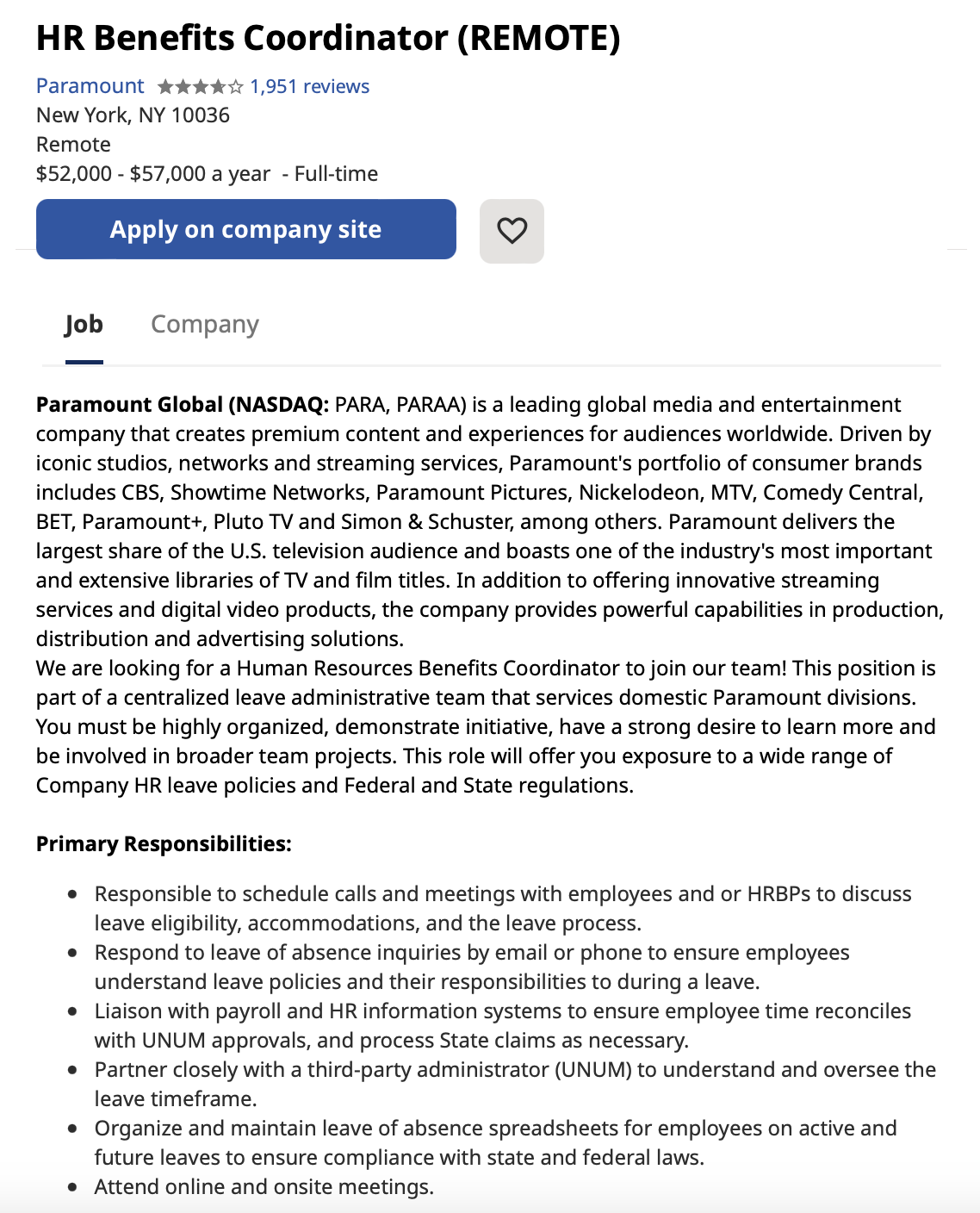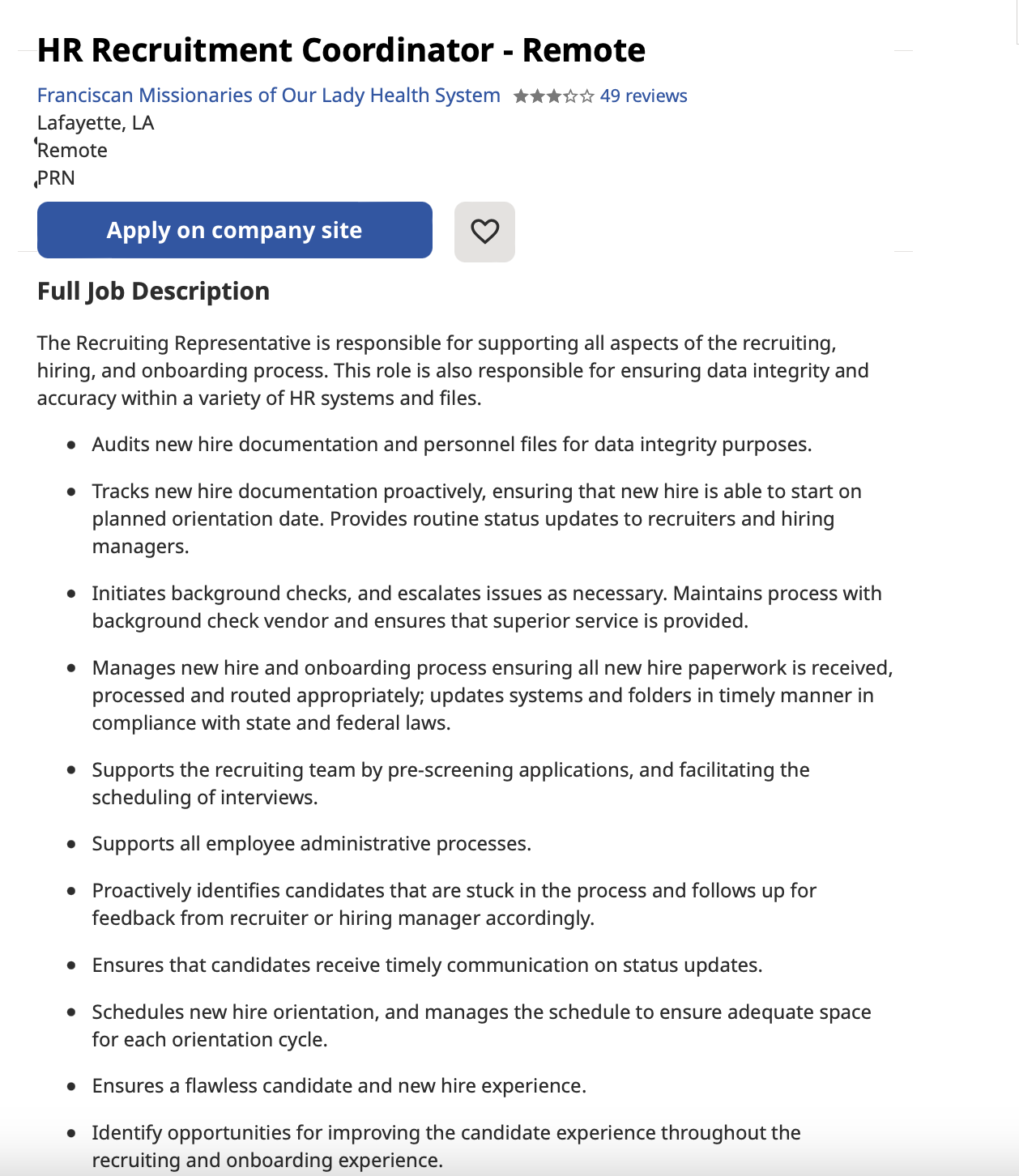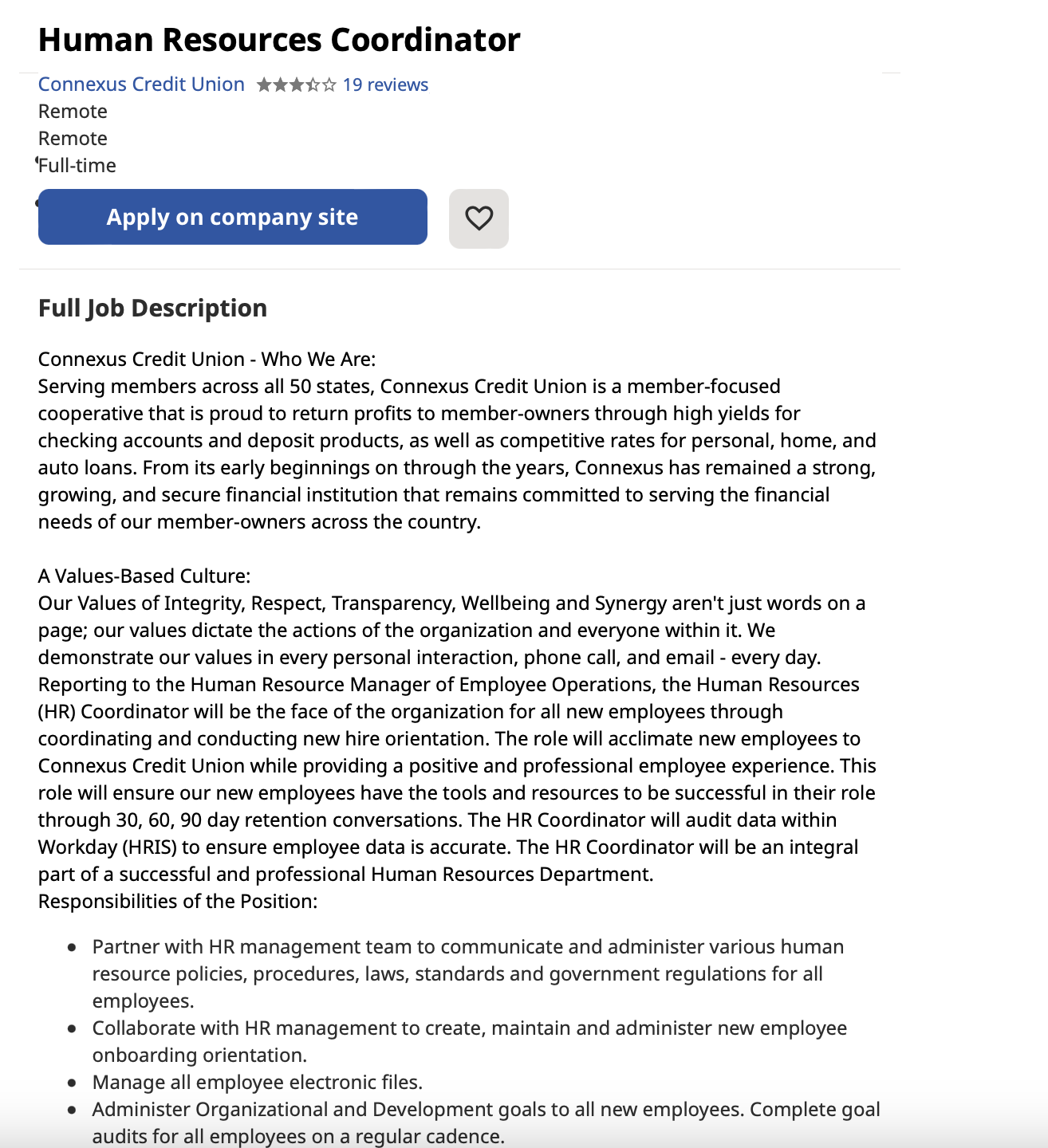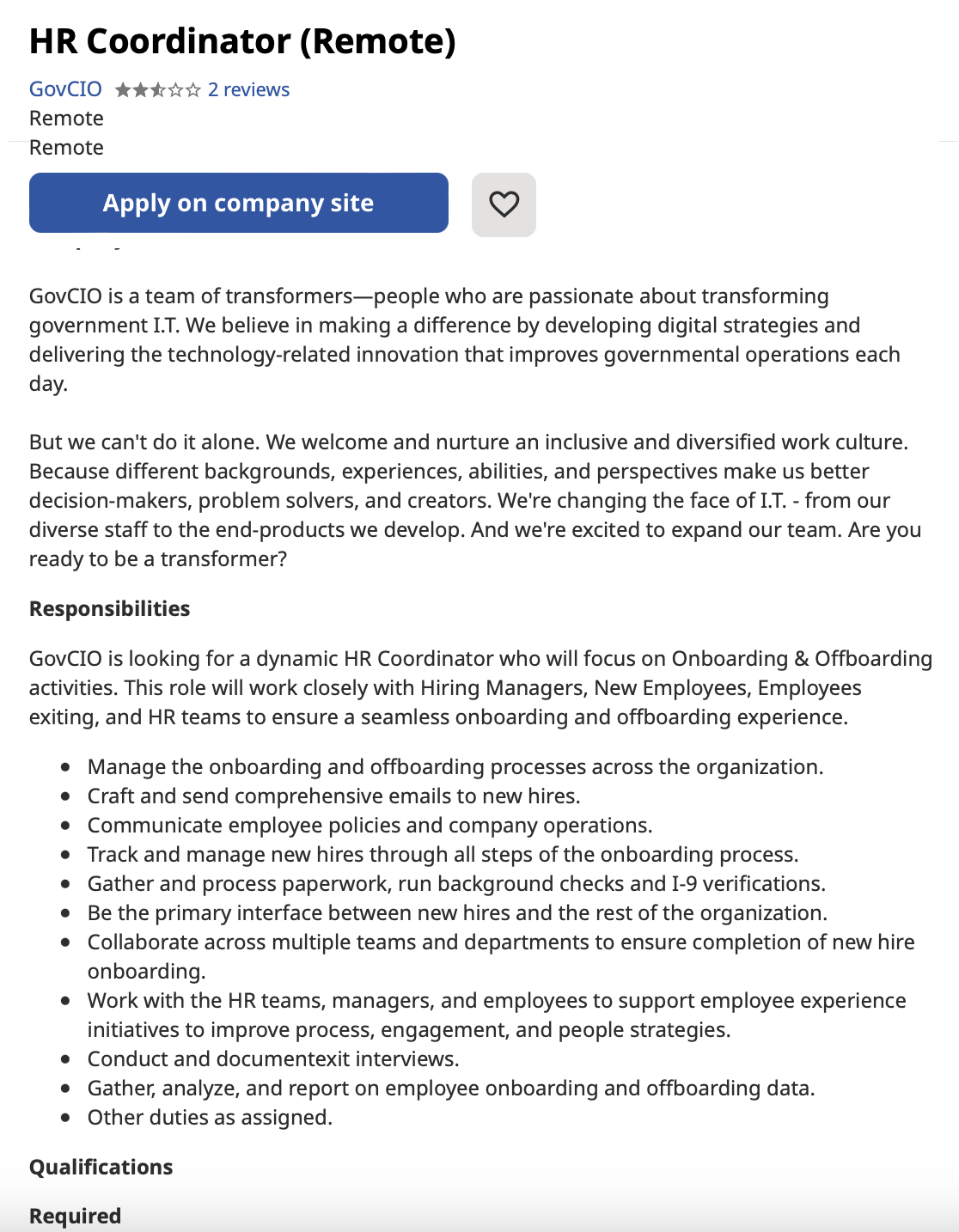 Tips for Writing and Posting an Effective Job Description
You can use the sample job description HR coordinator postings above as templates and, from there, write your own . But if you'd rather write one from scratch or are looking for extra tips to write a terrific job description, then we have a few tricks to show you!
Use Clear and Direct Language
A cardinal rule of writing a job description is to write in clear, direct language.
Sloppily-written job descriptions with typos and grammatical mistakes will dissuade people from applying. The same applies to job descriptions that contain confusing language.
While you're writing, make sure to do the followings:
Avoid jargon whenever possible. 57% of job seekers dislike reading jargon and technical terms in job descriptions. Instead, opt for a more common vocabulary.
Don't use too many acronyms; define them the first time they appear in the job description.
Use headings and subheadings to make the job description easier to read.
Make it as concise as you can. An optimal job description is between 300 to 660 words.
Maintain Positivity
By maintaining a positive tone in your writing, you'll encourage more candidates to apply by establishing a good first impression with them right out of the gate. You'll seem more sincere and credible. A positive tone will also help you write more concisely and clearly.
Make It Short, But Don't Skip Out on Details
The job description's primary task is to help potential candidates understand what is expected of them. Write this portion as briefly as possible, but ensure that essential information is included. The candidate should be able to glide quickly through this section but still understand exactly what the job entails.
To that end, you must use precise terms and phrasing in your job description. Avoid ambiguity at all costs.
For example, if you say that the HR coordinator is expected to "handle HR-related tasks," it's too vague. Instead, break this down into different sections and briefly define "HR-related tasks" (managing employee data, recruitment, training, etc.)
Use Good Job Posting Platforms
More than half of job seekers prefer to search for new jobs online. So, picking a good job posting platform with high visibility can help you boost your application rate. If the position you're looking to fill is remote, you can use Remotely to reach out to millions of potential candidates out there!
Job Description Template
You can put all the tricks you learned above into use right now via this HR coordinator job description template!
Job Brief
We're looking for a new, talented HR coordinator to join us!
As an HR coordinator, you will have a hand in facilitating numerous administrative HR tasks in the company. You'll be responsible for managing and updating employee records and helping to conduct interviews for new hires. In this role, you're also responsible for developing the company's talent pipeline and refining recruitment strategies.
We seek candidates with strong communication and interpersonal skills. You'll be talking and working with a lot of people in this role.
If you're interested in applying and you've got the skills, we'd love to meet you!
Responsibilities
Responding to internal and external HR requests
Help with staffing and recruiting
Supporting the company's recruitment process by helping with background checks, shortlisting, and drafting employment contracts
Assist the HR managers in their daily work
Maintain employees data and records
Prepare HR reports
Aid with setting up meetings, interviews, and other HR-related events
Requirements and Skills
A bachelor's/master's degree in related fields
At least 2 years of relevant working experience
Familiarity with HRIS (Human Resource Information System) and ATS (Applicant Tracking System) software
Excellent communication and interpersonal skills
Good organization and time management skills
MS Office
Begin Your Search for the Perfect Candidate with Remotely
Though they're entry-level HR professionals, HR coordinators still play an extremely important role in any company they're a part of.
Remotely is one of the best places to begin if you're searching for new talent to fill vacancies at your company. We connect thousands of remote job seekers to prospective employers every day. There's a decent chance that you'll be able to find your next team members among them!