HR recruiters are in incredibly high demand at the moment. According to the U.S Bureau of Labor Statistics (BLS), the job outlook for HR specialists (which includes recruiters) is expected to grow by 8% from 2021 to 2031. So, if you're looking to change your career to become an HR recruiter, now is an excellent time to do that.
What's the pay and compensation like for HR recruiters? In today's featured guide from Remotely, we'll give you an overview of HR recruiter salary, compensation, benefits, and more!
The salary data presented here is valid as of 14th of November, 2022.
What's the Verdict on HR Recruiter Salary
What does an HR recruiter do? An HR recruiter's job only involves interviewing and hiring the correct candidate.
So, how much does a recruiter make, generally speaking?
According to Glassdoor, the average salary for HR recruiters in the United States is $53,908 per year, which includes $50,242 in base pay and $3,384 in additional income (commission, performance bonuses, etc.)
Depending on various factors, like work experience, qualifications, seniority, and the company's pay philosophy, wages can be as low as $39,000, or as high as $82,000 a year. For most applicants, you'll likely be offered anywhere between $47,000 to $69,000.
Factors that Influence an HR Recruiter's Salary
The employer will take into account many different things when they're drafting up a salary to offer you. Here are the most influential factors.
Academic Experience
If you're wondering how to become an HR recruiter, the first thing you need to have are the appropriate diplomas, certifications, and degrees.
Most job postings for HR recruiters typically demand a bachelor's degree in relevant fields (like Human Resources) at the minimum. Candidates with either a master's degree or professional HR certifications will be given greater priority over candidates with a bachelor's.
For those with a master's degree, you should hold a Master of Business Administration (MBA) degree in Human Resource Management.
If you've got aHR certification, it should come from a national accrediting body, like the Society of Human Resource Management (SHRM) or the HR Certification Institute (HRCI). Both of these organizations host many examinations that you can take, ranging from the SHRM-CP (Certified Professional) to the HRCI PHR (Professional in Human Resources).
But according to Zippia, it's possible to become an HR recruiter with only a high school diploma, although your chances of acceptance will be lower.

And, of course, your salary will also be lower since the employer will be taking a risk on you and may need to provide you with additional training. The average salary of an HR recruiter with a high school diploma is $38,216. That's$4,000 less compared to an HR recruiter with a bachelor's degree, who makes $42,347 a year on average.
Relevant Working Experience
Like with many jobs, the more working experience you have, the higher your pay is going to be. With less than a year of working experience, you'll be offered around $52,610 a year.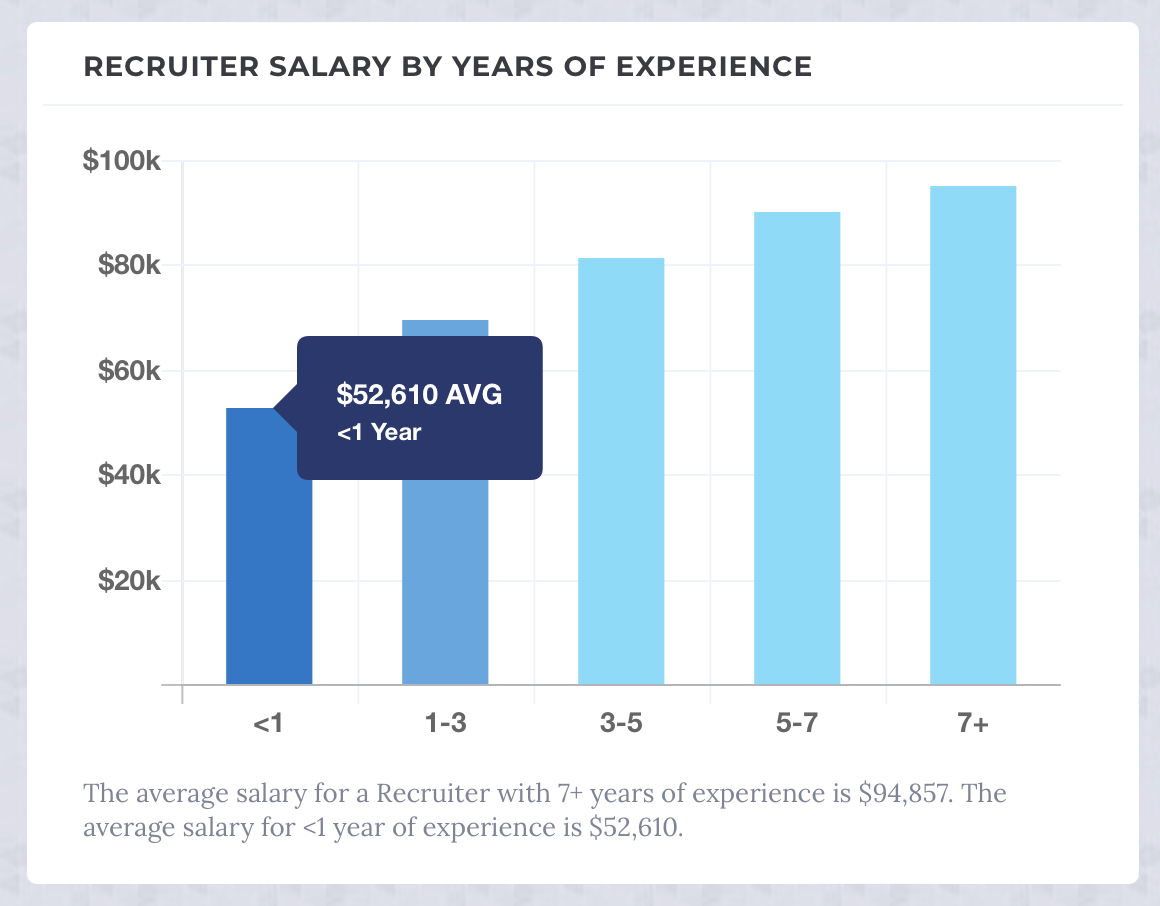 But once you've gained more working experience, between your first and third year at the company in the role of HR recruiter, you may be able to gain a pay raise for around $69,441 a year.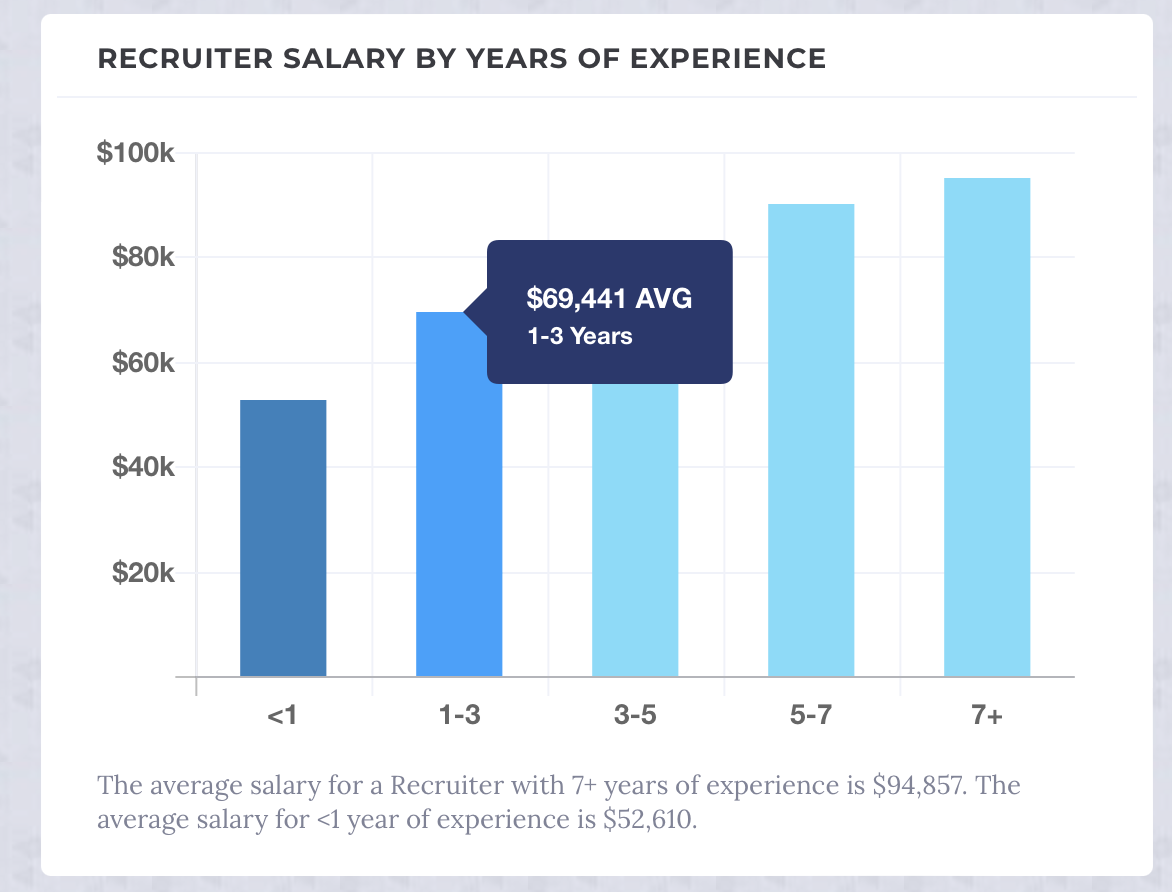 Your salary will progressively increase as you get more seniority and accomplishment under your belt. For very senior people with over 7 years of experience, the pay can be lucrative and can net you close to six-figures ($94,857 a year).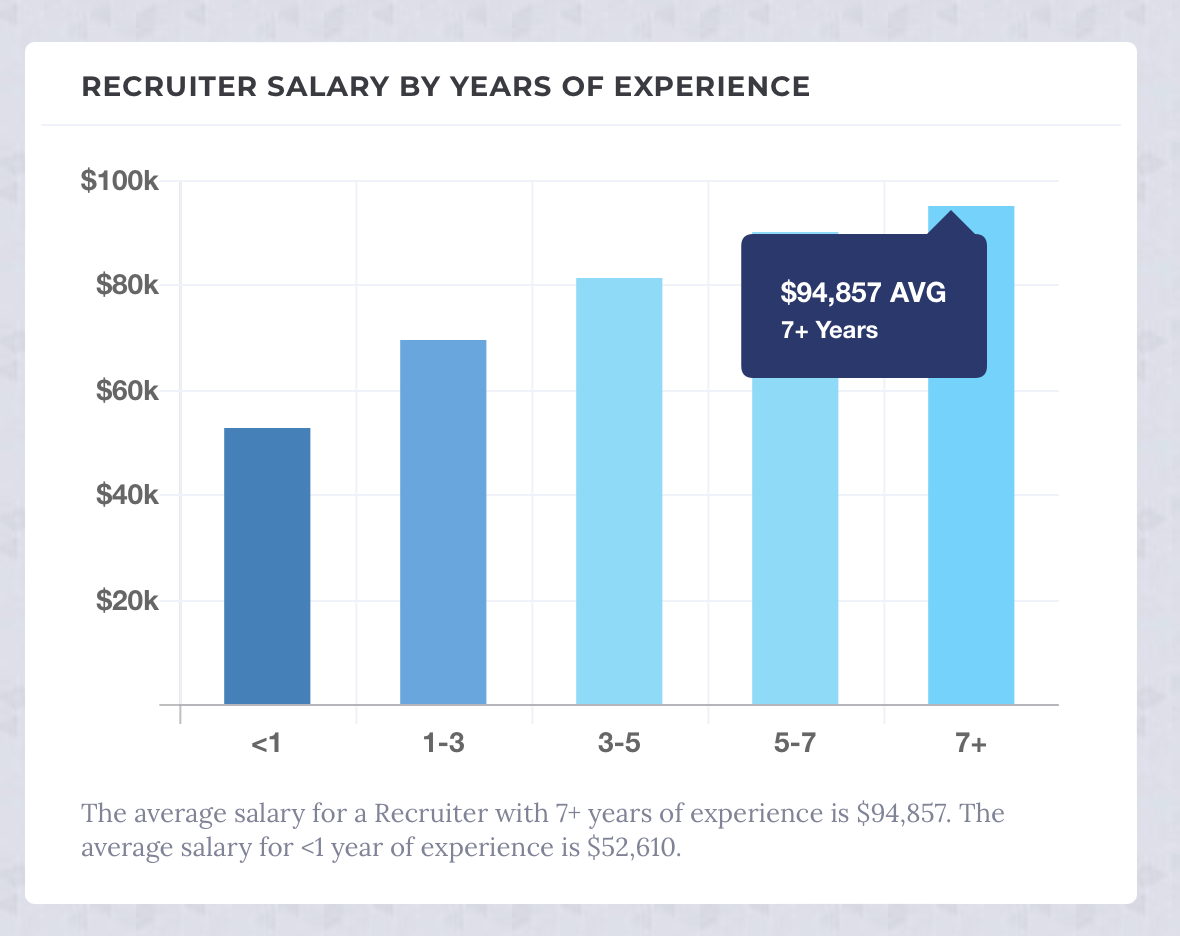 But it's worth noting that an HR recruiter is a relatively entry-level position. By your third or fifth year, you should already gain a promotion to more senior and authoritative roles, such as Manager of Recruitment.
Location
As a remote worker, the cost of living in your location is factored into your pay. This is called location-based salary.
If you live in an area with a very high cost of living, such as San Francisco, your salary will typically be higher than those in less expensive locations, like Topeka, Kansas.
According to Glassdoor, the average pay for an HR recruiter in the San Francisco area is $89,881 annually. In contrast, an HR recruiter from Topeka, Kansas, only makes $56,171 a year. That's a staggering difference of over $33,710 a year!
But when you consider that rent prices are 284% higher in San Francisco than in Topeka, and consumer prices (not including rent) are 60.3% higher – The difference makes quite a lot of sense.
For reference, here are the places with the highest pay for HR recruiters in America right now.
| | |
| --- | --- |
| City | Annual Salary |
| Atkinson, NE | $69,243 |
| San Jose, CA | $65,384 |
| Jackson, WY | $64,935 |
| Oakland, CA | $64,713 |
| Frankston, TX | $64,258 |
| Diamond Ridge, AK | $63,981 |
| Seattle, WA | $63,219 |
| Barnstable Town, MA | $63,158 |
| Inverness, CA | $62,781 |
| Concord, CA | $64,935 |
Negotiation Skills
You can negotiate if you think the salary you've been offered isn't enough. It's a standard part of the recruitment process, so the recruiter handling your case won't fault you if you choose to haggle.
To increase your chances of getting a better offer, prepare a presentation during the grace period they give you to consider the job offer. Take into account your qualifications, working experience, and previous accomplishments.
Highlight some of the skills that recruiters will be looking for in an ideal candidate for the position.
Communication skills
Marketing skills (to help find and "sell" the benefits of working at the company to talents)
Relationship building skill
Attention to detail
Time management skill
Multitasking skill
The worst thing they can say is "No," and you can decide then whether to go ahead and accept the job offer regardless of rejection.
Do HR Recruiters Feel Fairly Compensated?
Most former and current HR recruiters feel quite content with the salary they're offered.
One recruiter started working right out of college, and they screened around 10 people a week, with 2-5 successful hires a month. Their base pay after two years of working (as of the time of writing) was $53,000 a year, but factoring in commissions, they made $80,000 a year.
With seniority, like this HR recruiter with over 7 years of experience, you can get over six-figures. This person makes $150,000 a year, mostly in commissions. And as expected, they're very happy with the salary they get.
Another HR recruiter reported working from the bottom with a $35,000 base pay and commission. After gathering about eleven years of experience, they transferred to work as a recruiter for a defense contractor with a base salary of $125,000 and bonuses in the range of $5,000 to $10,000.
Remote HR & People Jobs
HR Recruiter Average Salary Levels by Seniority and Years of Experience
The salary data in this table, separated by seniority and years of experience, is provided by Glassdoor.
| | | |
| --- | --- | --- |
| Seniority | Years of Experience | Average Total Salary (Per Year) |
| Junior Recruiter | 0-1 | $60,283 |
| Recruiter | 2-4 | $70,473 |
| Assistant Manager of Recruiting | 2-4 | $68,218 |
| Senior Recruiter | 2-4 | $94,209 |
| Recruiter Manager | 8+ | $101,394 |
| Recruiter IV | 8+ | $110,024 |
| Senior Manager of Recruiting | 8+ | $131,455 |
| Principal Recruiter | 8+ | $160,812 |
You'll make about $60,283 in total compensation as an entry-level junior HR recruiter. This position is available to those with less than a year of working experience.
With a year of experience under your belt, you can be promoted to a standard HR recruiter. You can take home a total of $70,473 a year in this position.
When you reach senior level, you'll come very close to breaking the six-figure pay milestone. The pay for this position is about $94,209 a year.
In many companies, the highest rank a recruiter can attain is Principal Recruiter. This position will require you to have great seniority in the field with over 8 years of experience. The pay for this position is about $160,812 a year.
Total HR Recruiter Compensation
Besides financial compensation like base pay and bonuses, when you work at most companies, you'll also enjoy a number of non-financial benefits and perks. For example, if you work as a recruiter at Microsoft, you'll be eligible for their company-sponsored insurance plans (health, life, accident, etc.) They also offer 401k plan matching, gym memberships, employee discounts, and more.
The list of benefits will depend on the company you work for, and you can discuss this with your employer during the interview or when they send you a job offer.
How Do HR Recruiter's Salaries Compared to Other Jobs?
| | | |
| --- | --- | --- |
| Position | Salary Range (Avg) | HR Recruiter Salary ($53,908) |
| Staffing Manager | | Below |
| Employee Relations Manager | | Below |
| Benefits Administrator | | Below |
| HR Development Manager | | Below |
The four jobs above are some of the specializations an HR employee can take other than recruiting. Except for the Benefits Administrator (which has a comparable salary to the HR recruiter), all other jobs pay far better.
This is to be expected. When we take into account the HR recruiter roles and responsibilities and compare it with other jobs on this chart … Recruiters have far less responsibility.
For example, an HR development manager handles the training and orientation of all incoming new hires. They'll follow each new hire from the moment they enter the company to the end of their probation period.
How Do HR Recruiter Salaries Differ in Various Companies
| | |
| --- | --- |
| Company Name | Total Salary Range (Avg) |
| UPS | |
| State Farm | |
| IBM | |
| Walmart | |
| US Federal Government | |
Companies that need to regularly hire large volumes of people, like UPS and Walmart, pay their HR recruiters very well. Working for UPS means making $92,474 a year, while Walmart will be willing to pay you up to $86,053 a year.
Organizations that require HR recruiters to search for special candidates with great skills and talents, like IBM and the US Federal Government, are willing to pay their HR recruiters a higher amount for their efforts, with IBM willing to spend $98,698.
And if you decide to work in a government position, the US Federal Government pays a decent sum of $93,413 a year. However, unlike normal corporate jobs, you may have to go through more processes to get the job, including obtaining a security clearance.
Like State Farm, companies with low hiring volumes pay their HR recruiters a far smaller rate. The average salary of an HR recruiter working for State Farm is $64,267 a year.
Begin Your Search for a New Remote Working Post Today with Remotely
Remote working is the way of the future. As a remote worker, you'll enjoy better work-life balance and productivity compared to those who commute and work 9-to-5 at physical offices.
HR recruitment is one of the many lines of work that's becoming remote. Interested? Search through Remotely's database and see if any of the latest job postings catch your eye!