Did you know that 11.4% of wasted resources in a company are due to bad project management processes?
Following that, companies that suffer from bad project management practices usually see a project failure rate by a factor of ⅔.
It's an alarming statistic, and companies are fully aware of it happening across industries. That's why the demand for project coordinators is higher than ever.
Coordinators are trained in the "art" of project management. They help ensure that the nitty-gritty details of a project, like tasks, schedules, budgets, and resources, are up to code. They also handle communication and organization, to ensure that everything runs seamlessly.
Without them, a project runs the risk of being mishandled. Companies are willing to pay money to ensure this doesn't happen. How much, exactly?
Here, we'll analyze project coordinator salaries and delve into factors that influence them.
Salary data is valid as of the 27th of October, 2022.
What's the Verdict on the Project Coordinator Salary?
Project coordinators have a total pay of, on average, $56,610 per year ($53,795 in base pay and $2,815 in bonuses).
In contrast, a project manager (the team leader and generally the person to whom the coordinator will answer directly) makes about $84,961 per year. This includes $79,036 in base pay and $5,925 in bonuses.
There's pretty good reasoning behind this disparity. Project managers are responsible for the project from start to finish. On the other hand, a coordinator will typically only handle the execution stage of the project.
So what does a project coordinator do?
A project coordinator's role involves advising and aiding the project manager with decisions related to the project, by giving them a broad overview of the project's day-to-day operations. They also communicate with the project manager and help find suitable solutions when a problem arises.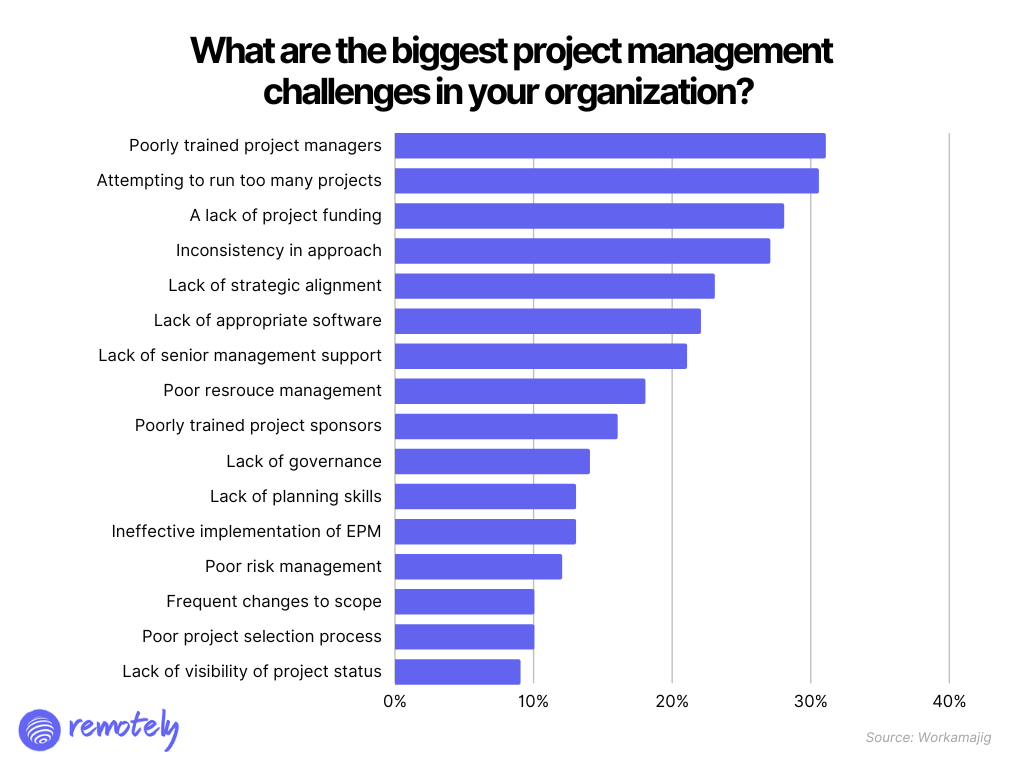 Image Source: Workamajig
Project coordinators may take on several projects at once. And it's not uncommon for coordinators themselves to turn into project managers after they've gained experience.
Factors That Influence Project Coordinator Salaries
Years of Relevant Experience
Like any other job on the market, the more relevant experience you have, the higher your chance of landing a position with good pay. Other than getting your foot in the door for well-paying opportunities at large companies, the amount of relevant working experience you have can also be a good talking point during salary negotiations.
Project coordinators with less than a year to two years of experience can expect to receive a job offer starting at around $50,051. With seniority, you can score significantly better. Project coordinators with ten years of experience can make about $61,208 annually.
Seniority
If the company uses a seniority-based pay model, the longer you work for it, the higher your pay will be. Senior employees also enjoy many benefits and perks that junior staff doesn't get, like extra paid vacation times, bonuses, and preferential shifts, and are prioritized for promotions.
Region
The pay will differ depending on where you work if you work remotely and the location of the office you're assigned to. And before you ask, remote work is possible for this position!
Salary is mostly adjusted by the cost of living in the area. The same principle is applied to a project coordinator's salary.
For example, as a project coordinator working for an office based in Manhattan, NYC, you'll make about $64,684. It is far higher than someone working in the same position, but for an office based in Nashville, TN, where they'll make only about $54,439. The approximately $10,000 gap isn't entirely unreasonable, considering how living expensive in NYC is over 50% more expensive than in Nashville.
If you're searching for cities with the best pay for project coordinators, here's a list of the top five in the US, according to this survey.
| | |
| --- | --- |
| City | Annual Salary |
| Atkinson, NE | $83,640 |
| Frankson, TX | $79,599 |
| Barnstable Town, TX | $78,525 |
| Inverness, CA | $77,899 |
| Dimondale, MI | $75,472 |
Negotiation Skills
When going into an interview, you have the option to haggle over pay if you think you're worth more than what they're offering. After you've received the job offer, take some time to build a case on why they should pay you more. Focus on your skill set, qualifications, relevant working experience, and the benefits that you can bring to the company.
It'll also help your case if you include qualities that companies look for in a good project coordinator, such as:
Good communication skills
Strong organizational and multi-tasking ability
Team management and general leadership skills
Problem-solving and analysis ability
Employees Compensation Review
An interesting point we found while researching was that most of the reviewers were college graduates with very limited working experience. And as one person noted: "Salaries for new college graduates are often in the $37[k]-$45k range."
Of course, this depends largely on the industry and the location. For example, one person who works in healthcare reported that the salaries for project coordinators in their area start at $50,000 per year. But you must have at least four years of relevant working experience for HR to consider your application.
Regarding work-life balance, one person said it's "busy crazy insane" on certain days while easier on others.
But don't be disheartened at the lowly $36,000 – $45,000 salary range. As you accumulate working experience, you could proactively ask for a raise. It's a taboo subject, but in reality, there's nothing wrong with asking for a raise when you think you deserve more for your hard work.
Prepare a case by looking back at your recent projects and citing their positive figures or achievements.
Once you have written down your performance records, consider your worth. Take into account your qualifications, skills, and years of experience you have had so far.
Then, refer to online salary databases and read compensation reviews to see exactly how much someone with the same qualification or experience as you would get. That should help you to come up with a solid number to bring to the negotiating table.
Project Coordinator Average Salary Levels by Seniority and Years of Experience
Below is a table showing the average total salary of a project coordinator by seniority and years of experience, according to Glassdoor.
| | | |
| --- | --- | --- |
| Seniority | Years of Experience | Average Total Salary (Per Year) |
| Entry-Level Project Coordinator | 0-1 | $51,565 |
| Senior Project Coordinator | 2-4 | $65,374 |
| Project Coordinator III | 4-6 | $56,949 |
| Project Coordinator IV | 5-7 | $62,867 |
| Chief Project Coordinator | 8+ | $85,804 |
Project coordinating is a job you can land right from college. Some have even managed to get a job offer without any formal education at all. The project coordinator's salary entry level starts from around $51,565.
As your seniority grows, your salary will also grow along with it. It's not a big growth from entry-level to intermediate-level positions (only a slight difference of $1,159 between them).
From mid-level to senior level, the jumps are far more significant. Between intermediate and mid-level positions, there's a difference of $4,578.
And if you manage to gain promotion from mid-level to senior-level, you would gain a pay rise of an extra $4,582.
Besides extra pay due to seniority, high-level project coordinators usually have to be responsible for many different projects. They'll also have to answer to more people, including top management.
Total Project Coordination Compensation
According to Glassdoor, the average project coordinator makes $59,594 in total, which includes $53,785 in base pay and $2,809 in bonuses. Depending on your company, other than salary, you will also receive several benefits and perks.
For example, if you work as a project coordinator at Google, the company will handle health insurance and provide free food, gym memberships, and free transportation (buses and bikes).
Paid and maternity leaves also come as part of life as a Googler.
Financial incentives include stock options and 401K match (retirement plan).
How Do Project Coordinator Salaries Compare to Other Jobs?
A project coordinator makes more than four out of five jobs listed above, with the sole exception being a sales coordinator.
A project coordinator's job can be considered "finished" when they complete a project. After that, they can begin to work on other initiatives. On the other hand, the job of a sales coordinator is never-ending. They can complete a sales goal, but their job won't end after that. The more they sell, the better.
As a result, sales coordinators will usually enjoy better compensation than project coordinators. Sales commissions and bonuses can also quickly add up to a decent paycheck if they perform well.
How Do Project Coordinators' Salaries Vary in Various Companies
| | |
| --- | --- |
| Company Name | Total Salary Range (Avg) |
| Amazon | |
| Google | |
| Walmart | |
| CVS Health | |
| Microsoft | |
Noticeably, the base pays of project coordinators across many notable companies hovers at around $50,000 to $55,000. Where they begin to differ from one another is in the bonuses.
Deep-pocketed tech companies like Microsoft and Google offer decent base pay while being generous in terms of bonuses compared to companies like CVS Health. However, large sales-oriented companies like Walmart offer more modest base pays, but bonuses are generally high.
Ready to Find Your Next Career Opportunity with Remotely?
The future of employment is definitely shifting. And as remote working takes center stage, flexibility, work/life balance, and all the conveniences that come with WFH setups are gaining more prominence. As more and more companies shift focus to remote working, roles like project coordination are able to be done from home. And if you're interested in finding a similar position, be sure to check out Remotely's job board and see the latest postings!