Prompted by the sudden closure of many physical offices and workplaces, a global pandemic ushered in a new era of remote work for many.
The shift allowed many traditional companies and managers to realize that numerous jobs can be performed remotely. Yet despite this increased demand for online workers, many are still scared to include the term "remote" when they perform their job search.
Why? Because of misconceptions surrounding remote jobs.
A popular one is that remote jobs require candidates to have a higher level of skills, especially for specialized job positions. Another is that entry-level positions tend to shortchange potential candidates and pay them very little.
This article will hopefully address these concerns by helping dispel these prevailing myths and introduce you to high-paying remote jobs that you can land with no remote experience.
Keep reading to learn how you can shift from your office cubicle to a fully remote position.
Companies Recognize The Value Of Remote Work
Many large corporate companies are starting to realize the value of remote work. Some well-known companies, like UpWork, AirBnB, DropBox, Twitter, Shopify, and Spotify, are allowing their employees to work remotely full-time.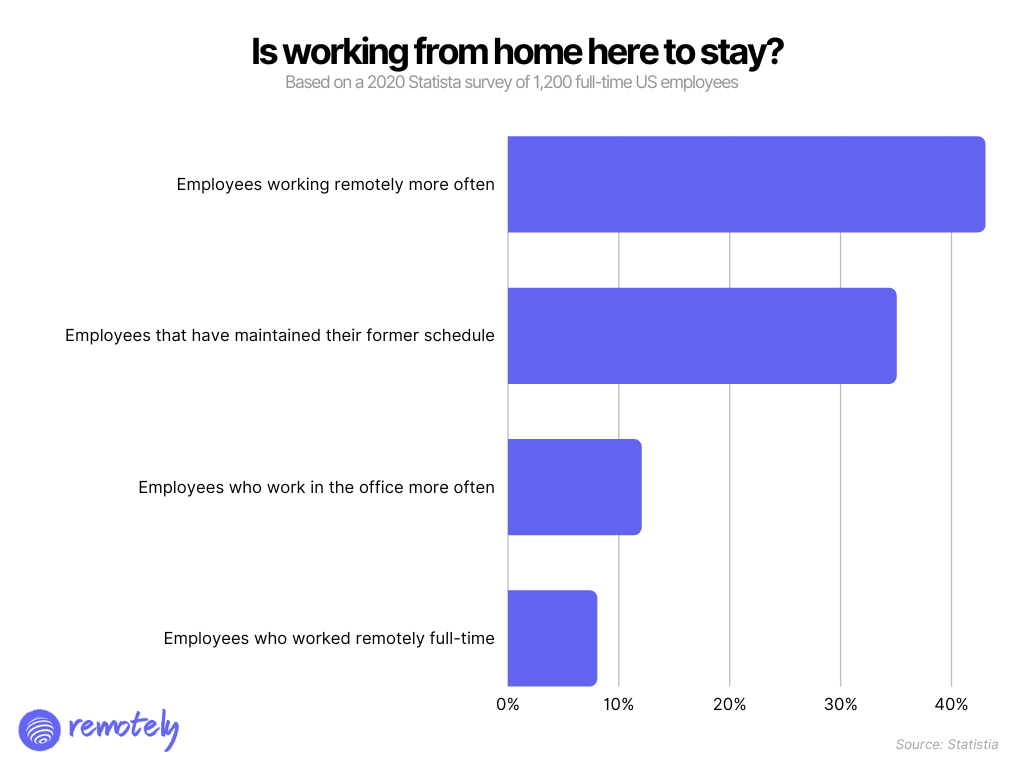 Source: Statista
The shift to working from home (or away from the office) has benefited both employees and businesses.
Here are some benefits of working remotely:
Enables employees to maintain a healthy work-life balance, with reduced stress and fewer sick days.
Improves productivity, with companies stating an observed increase in the productivity of their employees.
Workers feel more engaged with their work.
Meetings are more effective as they are online and do not drag on, wasting valuable time.
Companies cut down on expensive overheads like office space.
Employee turnover drops due to higher levels of job satisfaction.
Defining "No Remote Experience"?
an advantage. On-the-job training means exposure to real-life scenarios where your expertise, education, and inherent problem-solving skills all come into play.
Remote work, however, gives the impression that a whole new level of experience is required to succeed in the role—regardless of what position. This is primarily because many tools and systems required to ensure success in a remote capacity often have to be learned. To not have any remote experience, therefore, refers to a candidate not having previously worked in a remote capacity at all.
Does this make it difficult for candidates to find remote job opportunities?
Not necessarily.
Many potential employers understand that remote working is a relatively new system. For anyone with no remote experience, applying for remote jobs can be the starting point of a career that allows you to work from home.
What candidates have to focus on however are their specialized and basic skills, as well as their willingness to learn and fast learning curve.
Remember, the remote experience can be learned. And if you want to pursue remote working skills before applying, there are numerous online courses available to enhance your skills before you send in your applications.
Getting A High-Paying Job With No Remote Experience
Do remote workers get paid less?
According to Payscale.com, employees who work remotely actually earn more than non-remote workers.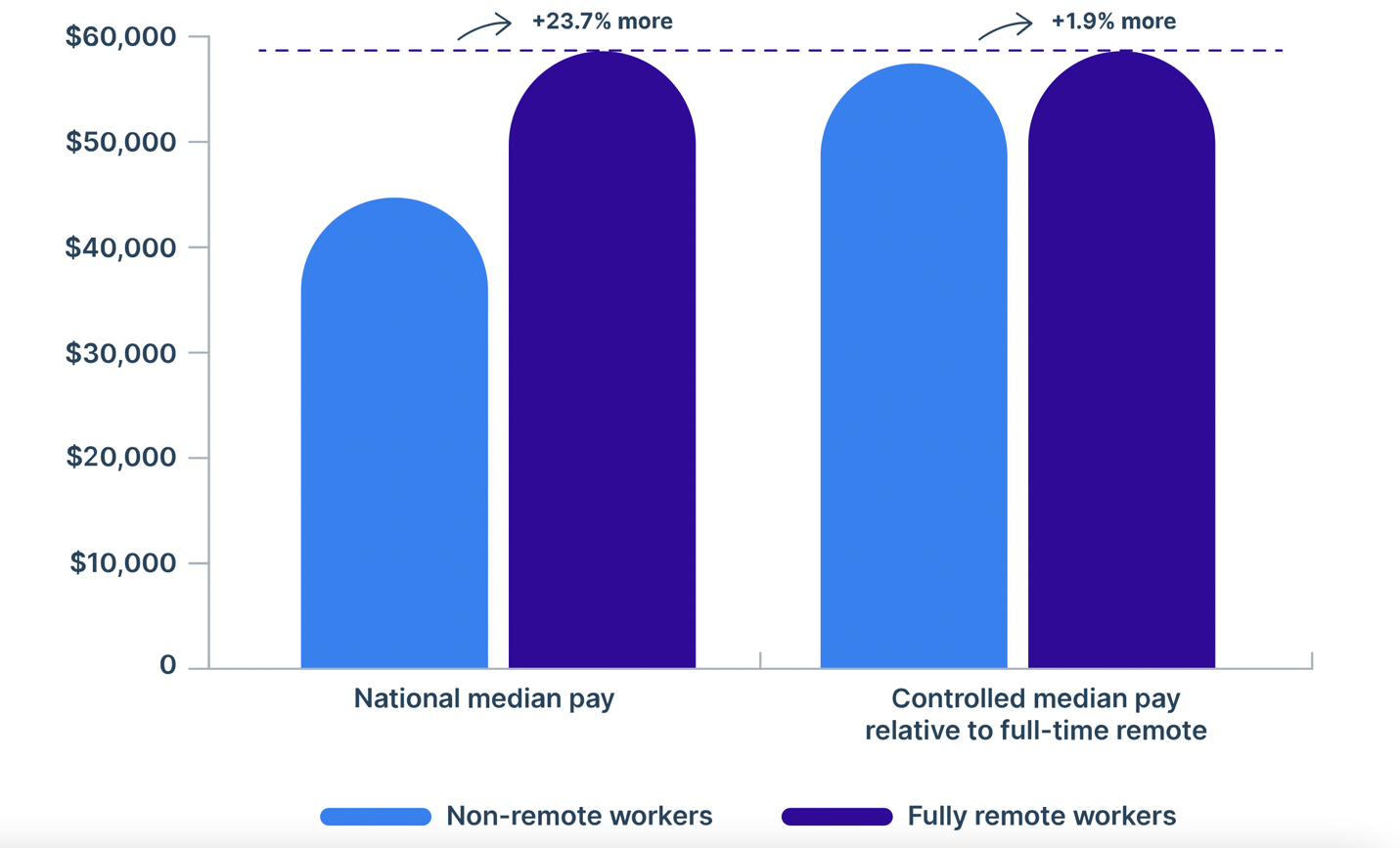 There is a long-standing myth that high-paying remote jobs are only available to experts in the industry with plenty of experience. While high-paying jobs aren't exclusively only available to high-skilled experts, this misconception does prove that companies are willing to pay a premium for their expertise and dedicated skills, even when they're working in a remote capacity.
That said, even without any related remote experience, many job openings will offer competitive pay, flexible hours, virtual onboarding, the ability to work from anywhere, and training for remote tools if necessary. Hybrid setups may require employees to come to a physical office once or twice a week, however.
Again, the success of remote employees is anchored on a combination of expertise, skill, and remote working experience. The combination of all three is what defines your value in the remote workforce. Even then, if you have no remote working experience, knowing what additional skills to hone and knowing where to look can make a big difference
How To Get Your First Remote Job
There are numerous job opportunities available to anyone seeking remote jobs but don't necessarily have remote working experience—and these jobs can range from virtual assistant positions to senior project managers.
With so many people looking to start working from home, the job market can get very competitive. If you intend to land a high-paying remote job with any remote work experience, you have to stand out from other applicants. Here are four easy steps that can help you land your first remote job:
Do Your Research
Research the companies in your preferred industry to see which ones have job openings that would be ideal for your skill set. Be sure to read through the job descriptions to determine their required qualifications and get a better picture of their company values and culture.
Look At Your Skills
Consider which skills you have developed through previous job experiences, or if you have interests or hobbies that could potentially be useful to the organization. Match your skills against a prospective employer's needs. Not having remote experience does not mean you won't be an asset to the company. However, make sure that you highlight these skills so that companies can recognize the advantages of hiring you.
Tailor Your Resume To Fit Their Job Description
Every company is different and even if a business is looking to hire for the same position, chances are, one's requirements will vary from the other. Knowing this, make the additional effort to tailor your resume to each company that you're applying to.
Understand The Industry and Practice For Your Interview
Remote jobs undergo the same hiring process as on-site jobs. In fact, it's likely that the remote hiring process is more stringent given that HR personnel and prospective employers don't have the opportunity to meet with their applicants in person.
Take the time to prepare for the interview process as you would face to face interview. Review common interview questions that will likely be asked, practice your answers, and try to do additional research on the company itself and the industry. Doing your due diligence as a potential hire can significantly improve your chances of being hired.
Additionally, be sure to highlight skills and work experience that are most aligned with their job description so you can underscore how and why you will be an asset to the organization. Be sure to mention that while you have limited or no remote working experience, your learning curve and willingness to learn will ultimately prove to be an advantage.
Common Misconceptions About Working Remotely
Here is some common remote work misconceptions debunked.
Remote Workers Earn Less
Some companies try to cut corners by lowering the pay of remote employees arguing that giving them the ability to work from home is already a perk in itself. However, in general, this is not the trend.
The 2021 State Of Remote Work Report found that people who work completely remotely earn more than those that do not have any flexibility in their job location. Even those who earn slightly less than their in-office counterparts will save money by working from home as they do not have to pay for the cost of commuting, childcare, food, and other peripheral expenses associated with physically reporting to an office.
In general, remote employees earned 23.7% more than those working from an office.
Remote Work Is Temporary Work
It is possible to build a long-term, successful career that is completely remote. Of course, plenty of temporary remote positions are available, especially for entry-level internships and positions, but this is not the norm.
Working Completely Remotely Is Impossible
Many people think that working remotely still means going into the office a few days a week or having in-person meetings.
While this hybrid work setup is more effective for certain industries, it is entirely possible to conduct all work remotely given the advancements of collaboration tools and project management tools available today.
Careers Tend to Stop Growing When You're Working Remotely
Some people believe that working remotely makes it difficult, if not downright impossible
However, even fully remote organizations need a plan for their team's growth if they intend to scale their companies.
Although the traditional "career ladder" may look slightly different for work-from-home jobs, it does not mean that remote employees will be stuck in the same position without any career advancement opportunities. Be sure to keep communication lines open with your employers so you can discuss ideas for growth and your career path.
Top High-Paying Remote Jobs You Can Land Despite No Remote Work Experience
Below are some jobs in the US that pay exceptionally well with little remote working experience required.
Remote Developer
An entry-level remote developer job can pay between $75,000 and $125,000 each year.
You can land this job without a bachelor's degree in computer sciences; however, you will need skills you can develop on your own, such as understanding coding languages and building software and applications.
Experienced remote developers earn up to $160,000 annually, which means once you build on-the-job experience, this can be a very lucrative career choice.
Remote Web Designer
Whether you are a web designer or a graphic designer for websites, these jobs can be done completely remotely and do not require experience.
Entry-level positions earn about $40,000 a year, which can increase to $125,000 annually with the right experience.
You will require some basic graphic designing or UI/UX design skills, but mostly you will need to be creative and deliver work in a timely manner to excel at this job.
Remote Project Manager
The basic skills required by project managers are planning, organizing budgets, managing various tasks, coordinating employees, and scheduling events.
A lot of the management skills required to handle in-person teams translate well into remote project management, but learning the tools needed to manage and track remote teams is certainly going to be an advantage.
Entry-level remote project managers can earn around $45,000, so if you have the required skills, make sure to include this position in your job search and supplement your resume with additional training and certifications from reputable project management trainings.
Remote Content Writer and Marketing Manager
If you have a knack for the English language and enjoy putting pen to paper, then working in the digital content creation and marketing sphere is ideal for you.
There are plenty of different content writing positions, such as writing articles, copy, blogs, or social media.
Content writers or copywriters and marketers can earn just under $40,000 each year, but if you have some Search Engine Optimization (SEO) skills, that can increase to around $60,000.
Remote Sales Manager / Account Executive
Are you passionate about customer satisfaction? There are plenty of remote sales jobs available today.
Those working as remote sales managers can earn around $68,000 base pay, and often the only skills required for this entry-level position are tenacity, productivity, and a can-do attitude.
A remote account executive earns slightly less at an average annual salary of $61,000.
Where To Find Remote Work
Are you convinced that you want to start your remote working career but do not know where to begin? Take a look at these places where you can find your next remote working opportunity.
Dedicated remote job boards: These websites are entirely committed to offering remote work opportunities. Check out Remotely for a variety of remote jobs and remote companies in all industries in the US.
Freelance job boards: Freelancing is a great way to have a flexible schedule while still making an income. These job boards include UpWork and Fiverr and offer contract-based jobs for those looking to work remotely.
Traditional job boards: Many conventional job boards, for example, Indeed, post both remote and in-office jobs, and you can filter jobs to suit your preference.
Company websites: If you are looking for work at a specific company, you can scour their website to look for any potential opportunities.
FAQs
What are the highest paying remote jobs?
Below are some of the highest-paying remote jobs today. However, take note that these are specialized positions that require experience and training both in the specific industry and the job.
IT Project Manager
Software Engineer
Data Scientist
Digital Marketing Manager
Business Analyst
Which jobs can I do from home with no experience?
There are several jobs you can do at home with no experience needed. These jobs are:
Virtual Assistant
Customer service representative
Doing data entry
Interpreter or translator
Travel Consultant
Sales representative
Wrapping up – Are Remote Jobs the Future of Work?
If you want to start working remotely but do not have remote experience, it is still possible to get a competitive salary as long as you have the right skill set and can demonstrate how you can benefit the organization.
One thing is clear, however—remote work is here to stay. There are jobs that will still need employees to physically show up. However, many companies will continue to offer flexible working opportunities, whether it's fully remote or hybrid work setups, to leverage the many benefits of working remotely.
Digital investment is critical to the future of remote work, and the availability of technology available to employees and employers today is impressive. With more people investing in the right tools, productivity and collaboration are only poised to improve. To that end, we can certainly expect further growth in the remote working sector.