A fully-engaged workforce can deliver twice the revenue.
In fact, further research suggests that positive communication and having the option to socialize outside work make a tangible difference to team morale. Nearly 75% of employees view teamwork and collaboration as essential to productivity. And 86% of executives recognize collaboration as an important part of company success.
Yet the nature of remote working isn't conducive to team engagement and collaboration.
According to statistics, the top struggles people have when working remotely are collaboration, loneliness, and communication.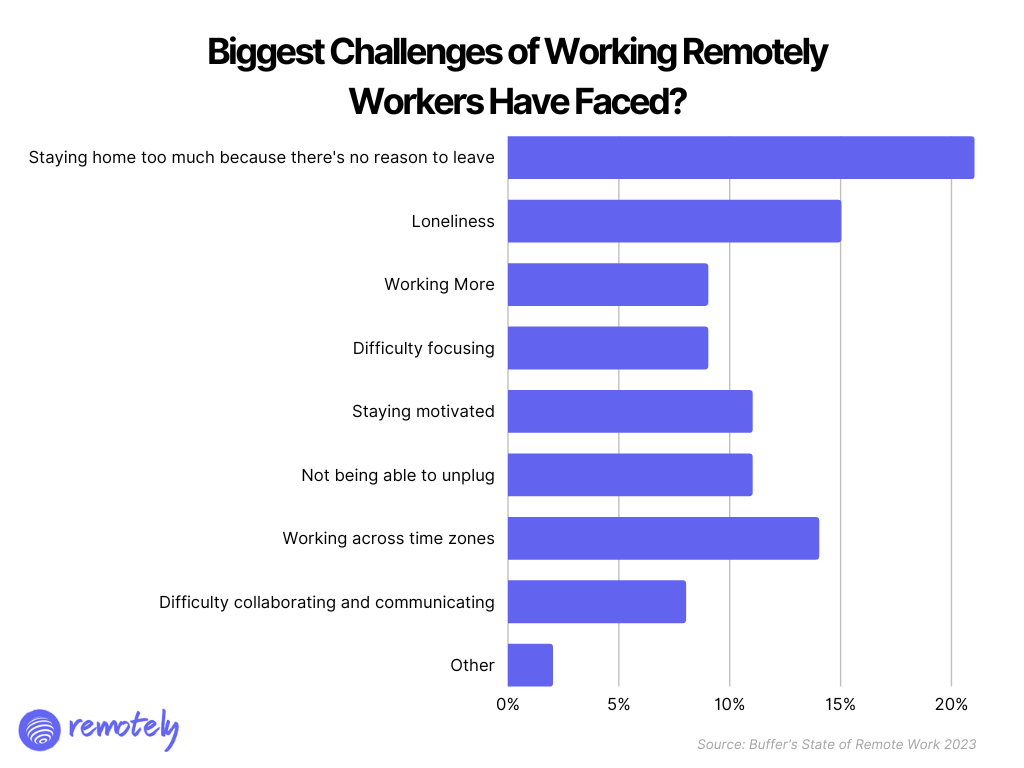 Source:
Buffer
When you're working remotely, you tend to work alone. Without colleagues beside you, it's difficult to build rapport between team members. To that end, employees and managers rely on technology to help establish real connections between their team members which will help improve communication.
This is where remote team activities come in.
To understand the benefits of virtual team building and find inspiration on how you can improve engagement between employees, keep reading.
The Importance of Remote Team Building
Working from home offers numerous benefits to companies as well as employees. But for all its advantages, both sides struggle with team engagement due to difficulties in communication. As a result, team collaboration and output suffer.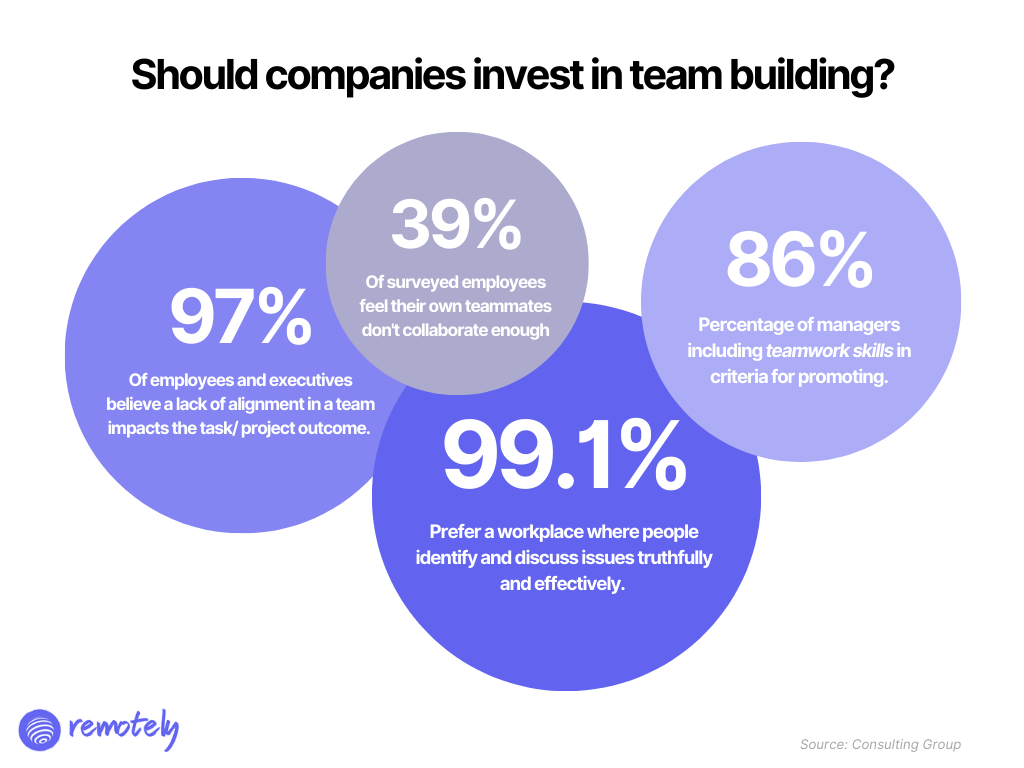 Source:
Buffer
Before this happens, companies look towards implementing remote team activities. Virtual team-building activities can be as simple as having an ice-breaker before an important meeting or dedicating an entire session towards helping remote team members get to know one another.
Generally, team-building activities have the following benefits for organizations:
Helping improve the communication skills of all team members.
Empowering team members to be creative, can help spark new ideas or enhance problem-solving skills.
Breaking down barriers between different staff and departments for better rapport.
Supporting better conflict resolution between colleagues.
Fostering trust between your team members.
Allowing team members to get more enjoyment out of their work.
For remote teams, however, the benefits of remote team activities are even more evident. Consider the following points:
Networking and Fighting Loneliness
Working from home without the presence of colleagues can be lonely. In fact, this is often cited as a struggle experienced by remote employees.
By having a dedicated virtual team-building event, staff will feel like they are part of a team, build relationships with colleagues and managers organically, and can communicate with their online colleagues in a fun yet engaging fashion.
Whether it's a quick check-in at the start of a meeting, or an hour set aside to connect with staff, virtual team-building activities will help build rapport and loyalty between team members and make them feel like they are part of a cohesive organization that supports each other.
Supports Teamwork
If the job requires tasks to be done as a team, then remote team building is vital to improve communication and collaboration between team members.
Colleagues who feel like strangers will not be able to do a task together as effectively as colleagues who know and understand how their teammates work and what they're good at.
By having team-building events, colleagues can develop shared goals and an understanding of each other's skills and assets. This helps improve collaboration between colleagues who have to work together, even if all the work occurs online.
Boost Employee Satisfaction and Minimize Turnover
Remote employees that feel like they are part of a cohesive team tend to be more satisfied with their work, which in turn translates to lower turnover rates.
Bear in mind that employee satisfaction is often tied to employee productivity, which relies on effective collaboration and communication. Ensuring therefore that remote employees remain productive by giving them opportunities to get to know their team members and build rapport with them is key to this.
Improving Creativity and Innovation
Employees who report to work happily, and who appreciate that they have a supportive, non-toxic work environment where their concerns are being heard and addressed are inevitably happier employees. The happier teams are, the more innovative and creative they are likely to be.
If you feel like there's a dip in your team's output, then remote team activities might be just what you need to help stimulate creative thinking and innovation back into your team. Not only that, team members are more likely to share their ideas when they feel comfortable with the people they're working with.
Better Collaboration
When people are able to communicate better, they can work together better.
Remote teams often end up working in silos because it's difficult to communicate with colleagues and managers. By making an effort to create open lines of communication that empower better collaboration, you're creating a friendly work environment where people feel more comfortable and open to discussing and addressing work-related issues.
Examples of Virtual Team Building Activities
Getting the entire team involved in a team-building activity can be challenging, so scheduling these dedicated online events in advance is best, so the team can plan their work accordingly.
When a team is spread out across different continents and time zones, even online office games can become difficult, but there are still plenty of fun virtual games that the team can play to boost engagement.
Here are some examples you can try:
Learn A Life Story In Five Minutes
This is one of those team-building games where virtual team members will really get to know their colleagues while practicing important listening and communication skills.
To play this game, team members are divided into pairs on a private call. Each person has five minutes to talk about their entire life story. Once the time is up, the person listening must repeat the story to the group on a conference call.
Map Where You Are Born
The Birth Map is a great idea for globally dispersed team members.
Upload a virtual map to a shared document, and have each member drop a pin in the area where they were born. This can be done before the meeting. During the meeting, have each team member relay a short story about where they are from and what they love about the place.
This activity will help members of the team to understand the diversity and cultures of their colleagues.
A Picture Tells A Thousand Words
Create a shared document and ask each staff member to upload a picture related to their life. You can pre-assign a theme to the images. For instance, you can have each team member show a photo of their workstations or a photo of their outdoor space.
Next, ask each team member to show their photo along with a short story about the image they decided to share.
Ten Things We Have In Common
This virtual team-building activity will allow your team to practice their brainstorming skills.
The team is divided into smaller groups; each group will have 10 minutes to come up with ten things they have in common.
The ten things can be obvious – like "we all work at this company" – but try to challenge the team to be more unique.
This activity will create a bond between staff and probably lead to a lot of laughter.
My Favorite Things
This game is an excellent ice-breaker before meetings.
The premise is simple: all participants simply have to think of their favorite thing.
On the day of your meeting team members are asked to upload images of their favorite things in their life to a shared folder.
Each person now goes around to show their favorite thing, explain what it is, and tell the team why they hold it dear.
Pictionary
Who doesn't like a virtual meeting that involves drawing or miming?
Pictionary works by giving a member of staff a word or item, and they have to explain what that word is, either by drawing images (a virtual whiteboard works perfectly for this) or by miming the thing without using words.
Drawing on software like MS Paint can have hilarious results, which will have the whole team laughing and shouting out suggestions. There are also several free Pictionary word generators that can be used to produce words – so very little prep is required for this game.
Pictionary aims to lighten the mood, improve communication, and help your teammates learn more about other people's thought processes.
The Aliens Have Landed
This fun game will have the team thinking, communicating, strategizing, and getting creative.
Teams consist of 3-5 people. Each team is responsible for explaining who your company is and what your company does to aliens who do not understand your native language. The team can only use five pictures or symbols to explain to the aliens what your company does.
Each team then takes turns to show the company what they came up with, while the other teams try to interpret what they were trying to communicate.
This activity improves collaboration and communication between remote workers, and the resultant laughs are a great team bonding exercise. If teams consist of staff members who do not often deal with each other, this activity is great at initiating discussions across different company sectors.
It also provides some insight into how staff views the company. Managers will be able to find common trends in how employees view the functions and values of the company.
Team Member Quiz
Hosting a personal quiz as part of your virtual meetings is an excellent way for individuals to share more about themselves and break the ice.
Digital quiz tools are the way to go here, and many free tools are available online.
The objective of the quiz is to get to know staff members better. It doesn't necessarily have to be a game but rather a "get-to-know-each-other" exercise.
Set up a list of questions, such as "What is your pet's name" "Have you ever played in a band," or "Do you prefer coffee and tea" and then have staff answer these questions. Avoid extremely personal questions such as family history.
This activity will help staff feel more connected to one another and also helps managers connect with their teams.
PowerPoint Karaoke
If you want to make a virtual meeting fun, then PowerPoint Karaoke is the way to go.
MS PowerPoint is one of those virtual team-building tools that almost everyone can access.
To play this game, have one employee prepare a short PowerPoint or Google Slides presentation with weird, possibly unrelated slides. Have that employee share their presentation with another employee.
The employee who received the presentation must present it to the entire team without having seen it beforehand or having any idea what the slides are about.
The objective of this activity is simply to have some laughs, improve presentation skills, and have employees think on their feet.
Happy Hour
There are no rules regarding happy hour; it is simply a way to end the work week with a relaxed video call in an informal setting and spend time with each other.
Colleagues can grab a drink and jump on a virtual call to chat with colleagues, discuss their weekend plans, and catch up on non-work-related topics.
Remote Team Building FAQs
Do remote team-building activities really work?
Yes. If there are activities planned for everyone to enjoy, you'll notice your remote team gets along better, and there is less tension as members communicate with one another.
How can I foster a sense of community with my remote teams?
Fostering company culture when staff is scattered across the globe can be challenging but not impossible.
Efforts need to be made to allow employees to connect. Team-building activities are great for this purpose, as are having Slack channels or organizing team lunches for members in the same cities.
How can remote team meetings be made more fun?
A virtual meeting can be much more fun if some activities are not directly work-related. The 8% Rule states that 8% of any meeting should be dedicated to something fun, such as an ice-breaker or team-building.
Remote Team Building – Bottom line?
Team building is crucial, especially for remote teams, as it improves productivity, creativity, and connection.
It is clear that remote work is the future—and if you want to empower teams to have better rapport and collaboration, giving these remote team activities a try to drive engagement is essential to ensuring growth and seamless operations.