As a sales executive, one of your primary tasks as the head of a company's sales and operations is to help craft the best job description so you can attract great talent. In this case, you want to attract the right sales executive candidate and filter out applicants who don't fit your requirements.
In this Remotely feature, we'll help you better understand the sales executive job description, requirements, and all the nitty-gritty that comes with the job.
What Does a Sales Executive Do?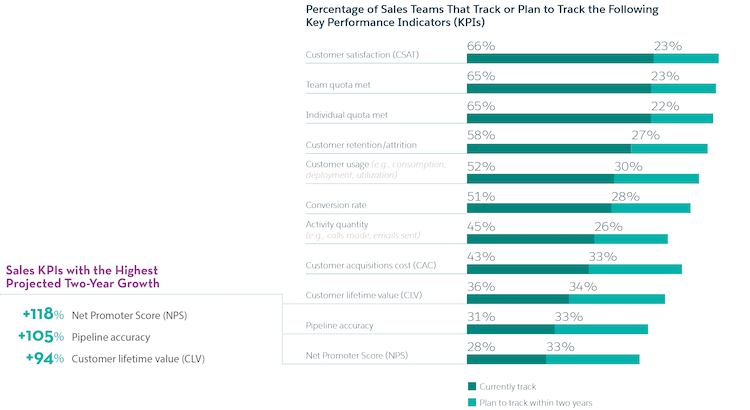 Image Source:
Salesforce
The main responsibility of a sales executive is to turn leads into customers, but this is just the tip of the iceberg. There's a reason why Sales Executives are expected to have skills that go beyond sales and customer relations. This is because part of their job description usually includes the following:
Conduct Market Research
For any salesperson to find prospective customers—executive level or otherwise—they must understand the market and how the products they're trying to push fit into their client's needs. The best way to do that is to conduct market research.
This involves:
● Estimating the size and market for the company's products and services
● Projecting the market share
● Gathering quantifiable data for more information about the market
● Analyze competitors
Other than supporting their own work, the market research done by sales executives can also be used to improve the company's wider sales and marketing strategies.
Find Possible Leads
Once market research is done, sales executives can search for new leads using the gathered data. They can the following methods:
● Cold-calling
● Emails and online newsletters
● Being active on social media networks and Internet forums
● Hosting webinars and seminars
● Guest-posting for relevant blogs
Once they've found leads, sales executives can further investigate who among them are prospects. Leads don't become prospects until their level of interest is determined.
Prepare and Deliver Presentations
After prospects have been identified, it's now time for sales executives to work their magic: convincing and converting them into becoming paying customers.
A sales presentation is a highly effective way of doing this. It can help them connect and build rapport with the prospect. Sales executives will also have the opportunity to distinguish the product or service of the company from competitors during presentations.
Participate in Exhibitions and Conferences
Business events like exhibitions, conferences, and trade shows are big opportunities for companies to showcase their products, find new prospects, and network with others in the industry.
During such events, sales executives are usually at the front and center of the operation. They can converse with attendees and introduce the company and its products to a wider audience where they can pitch their product or service and build a connection with attendees by showcasing their product in a relatable way that is most relevant to them.
Sales Executive Job Requirements
Like every other executive-level position, the requirements can be quite strict depending on the industry. Here are a few demands that the sales executive applicant might have to meet.
Education
As expected, executive-level positions will have stringent hiring requirements. Here are some industry standards that a sales executive applicant will be required to meet:
Most companies will expect you to hold a bachelor's degree. Depending on the industry, the required major will differ.
General sales, business: Business, management, or marketing
Technical sales: Computing, engineering, or any STEM-related major
Advertising, media-related sales: Media studies
Overseas, international sales: Majors related to languages or cultures (European, Asian studies, etc.)
Skills
While formal education is important, personality, attitude, and communication skills are crucial in sales. That's what you need to be looking for when you are searching for the right candidate.
To be more specific, here are some of the skills a candidate needs to be successful as a sales executive.
Interpersonal Skills: This will help them build great rapport and maintain a good relationship with potential customers and partners.
Presentation and General Sales Skills: Knowing how to present and persuade leads and prospects into buying your product.
Customer Service Skills: The best way to persuade a potential customer to buy a product is to address their needs and concerns. That's why sales executives typically have very good customer service skills, which help them identify and communicate with customers about their needs and provide solutions (in the form of the product or service they're offering).
Technical Knowledge: To sell a product, a sales executive must understand it inside and out. Technical knowledge helps them explain the product's functionalities and its benefits for customers, improving the chance of a successful sales pitch.
Teamwork and Leadership Skills: Sales Executives are expected to head and lead the company's sales team. This demands effective leadership skills that demonstrate your ability to empower, encourage, and engage team members to work on a unified strategy to meet company and department goals.
Innovation Skills: Sales executives need in-depth knowledge of the product and its development cycle. Their expertise in such areas can help them suggest ways to improve a product or service. This is why sales executives are usually among the first to pitch new ideas.
Sales Analysis Skills: Sales executives can also influence the company's general sales and marketing direction. Their understanding of where a company is, and where they're headed, and knowing how to align this overall vision with targets and goals is crucial to improvement. To that end, understanding how to interpret sales data, analyze metrics, and compile them into actionable reports is an essential skill that every Sales Executive must learn.
Experience
Sales experience is something that is generally learned on the job. The more time an applicant has spent working on the ground, the more competent a salesperson they're going to be.
That's why companies are always on the lookout for candidates with many years of experience to fill their high-level sales positions.
A minimum of two-five years of experience in various sales positions is a requirement for most sales executive postings.
Training/License
Though they're typically not required, having sales certifications or licenses can help you stand out from other candidates.
There are professional courses and programs to look out for like Certified Professional Sales Person (CPSP), Certified Sales Leadership Professional (CSLP), and Certified Inside Sales Professional (CISP).
Sales Executive Salary Benchmarks
The median salary of a sales executive in the United States is $63,695 per year. Most sales executives are offered a salary within the range of $57,525 to $70,016 per year.
Actual salary will differ depending on various factors, ranging from location, years of experience, and education, down to the company itself. Here's a salary benchmark based on location.
| Location | Salary (per year) |
| --- | --- |
| San Francisco, CA | $79,619 |
| New York, NY | $76,626 |
| Boston, MA | $71,776 |
| Chicago, IL | $67,574 |
| Dallas, TX | $63,281 |
Job Listing Examples
If you're interested in hiring remotely for this particular position, it would really help to browse through existing listings to get a clearer picture of how other companies are articulating their needs and requirements for the job. To start, you can browse through the Remotely database, which is updated in real-time or you can take a look at some of the top listings below:
Example 1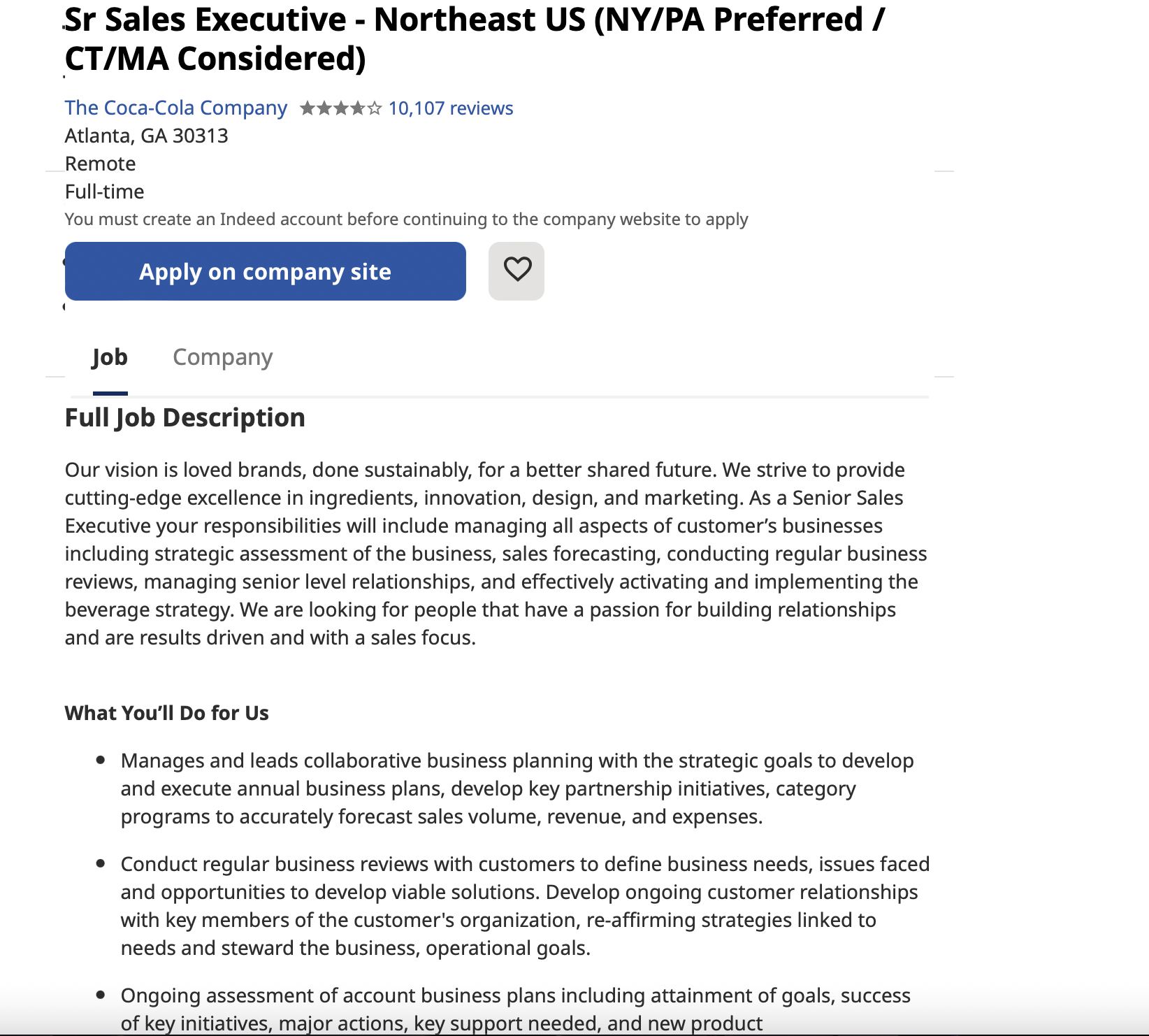 Example 2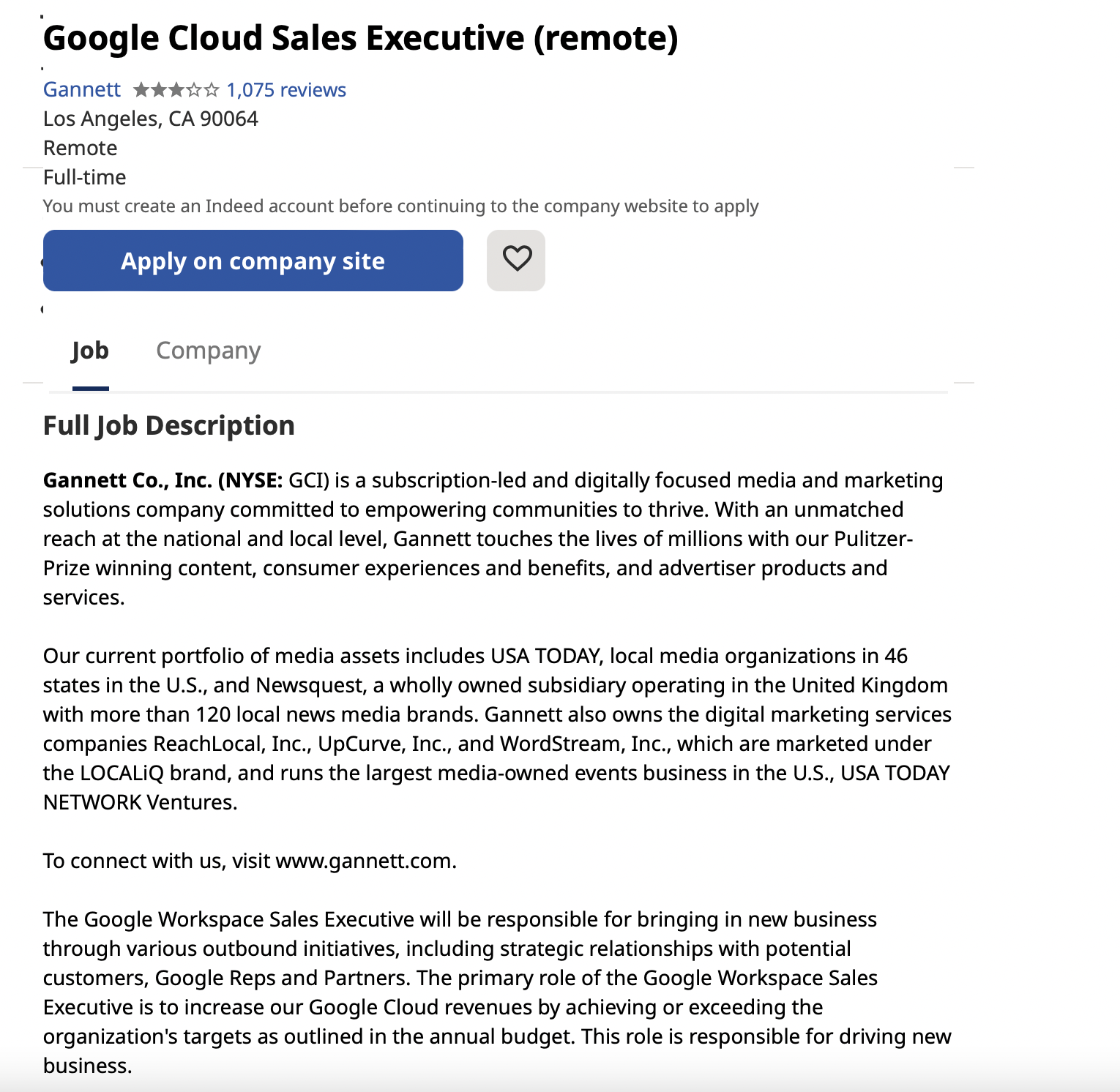 Example 3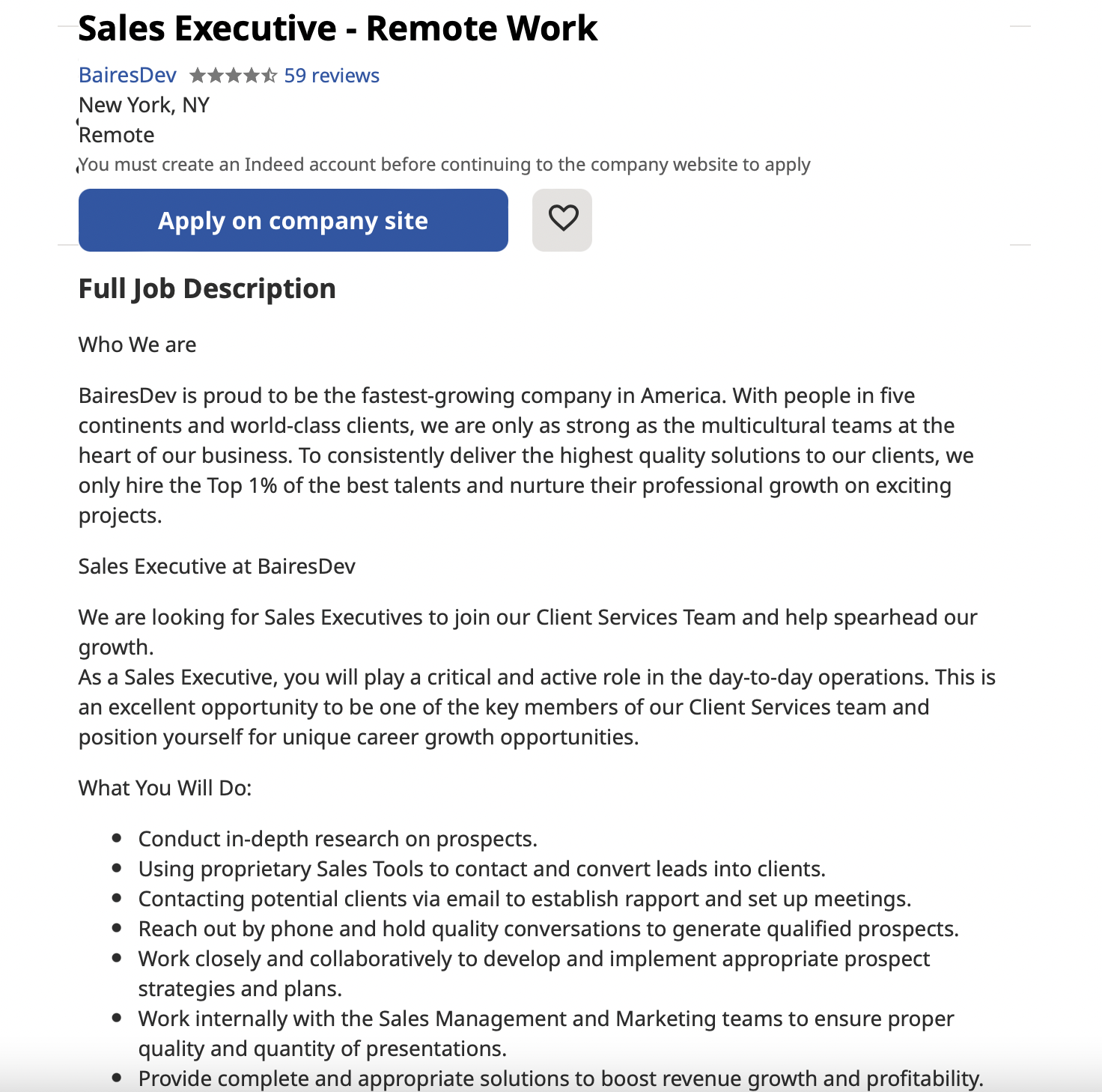 Example 4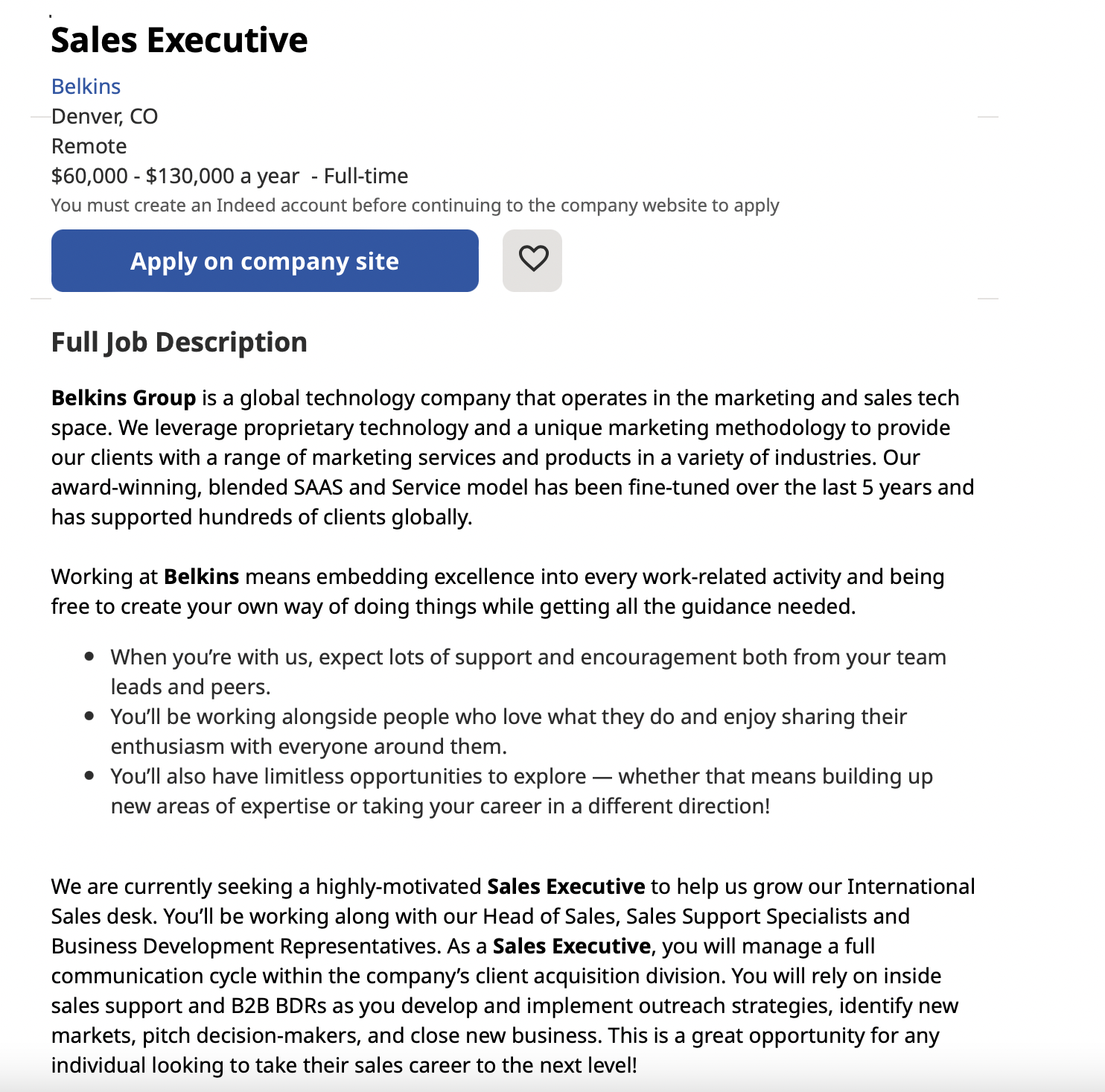 Tips for Writing and Posting an Effective Job Description
The job samples given above should give you a pretty clear idea of how to write a concise yet effective job description for sales executives. But if you're looking for more comprehensive tips and tricks, here are a few that you can try:
Use Clear and Direct Language
60% of job-seekers will refuse to apply for a job with a badly-written job description. That's why it's crucial that you write your job posting in clear and direct language.
Follow this checklist:
Avoid jargon and opt for a common vocabulary; a survey found that 57% of job-seekers will refuse to apply to a job whose ads are filled with unnecessary jargon.
Use headings and subheadings to help your readers navigate through the details.
Write in short sentences.
Avoid acronyms unless necessary and define them the first time they appear in your description.
Keep Positive Tones
People will be far more willing to work with you if you treat them with respect and sincerity. That's why, in your job description, you must maintain a positive tone throughout.
Your tone should be conversational and directly address sales executives. There are a few strategies to maintain a positive tone in your writing.
Avoid negative words and phrases (cannot, do not, etc.) and opt for positive (do, can, able to, etc.)
Emphasize what your company can and will do for candidates, not what you cannot
Highlight the benefits for candidates, not for you
Write Short and Descriptive Job Responsibilities
The job responsibilities section is meant to help the candidate understand what a normal day in this position will entail. Keep this section as short as possible while still providing pertinent details. This section must help them understand their future role, but it shouldn't take much time or effort to read.
For example, saying that a sales executive is "responsible for the company's sales team" is vague and unclear. It doesn't convey a lot of useful information on the day-to-day tasks of sales executives.
To make this clearer, break it down into clear specific duties, such as managing salespeople in the team, performing day-to-day sales analysis, finding potential leads, communicating with prospects, etc.
Look for Good Job Posting Platforms
Once you've written everything out, it's time to post it.
There are many job posting platforms out there where you can publish your job post, but if you're looking to fill a remote position, you want to find one that focuses primarily on remote vacancies. Remotely is a great option if you intend to find great talent for remote positions.
Job Description Template
The tips above and the examples should give you an idea of how to write an effective job description. Effective job descriptions however follow a standard template that helps make your posts stand out. You can check out the example below and modify minor details as needed:
Job Brief
We are looking for a reliable and talented sales executive to help us improve our business' sales performance.
The main responsibility of a sales executive is to conduct market research and identify and pursue new sales opportunities. You will also be responsible for negotiating and finalizing deals and aiding customers to ensure complete satisfaction.
Good sales and communication skills are important since you'll spend a lot of time reaching out to customers through social media, email, and phone to showcase our products and services.
If you have what it takes and are genuinely interested in the job, we'd like to meet you!
Responsibilities
Seek new business opportunities through social media, networking, or sales calls
Meeting with clients and discussing their needs and concerns, handling all complaints
Negotiate and close deals on behalf of the company
Conduct market research to better understand customers' needs and identify new opportunities
Create actionable reports from the company's sales and financial data in past periods
Attending trades shows, exhibitions, conferences, and meetings as the company's representative
Reviewing sales performance of the company's sales department/teams
Gather customers' feedback and share them with the company's sales teams
Requirements and Skills
A bachelor's/master's degree in related fields
Proficient in English (knowing a second language is preferred)
MS Office
Experience with CRM software (Salesforce Sales Cloud, Hubspot Sales Hub, etc.)
Excellent communication and negotiation techniques
Passionate about sales
Ready to Take the Next Step in Your Career with Remotely?
Sales executives are important members of the sales department that directly contribute to the growth and performance of the organization as a whole. Companies recognize the value that experienced sales executives bring to the business, which is why most businesses are willing to compensate skilled applicants who meet their requirements well.
You can start your search for such opportunities through Remotely, using our database of the latest remote jobs, updated in real-time.