From 2017 to 2027, the demand for people with UI/UX skills will grow by 27%. Glassdoor also ranked it as the 24th best job in the US in 2022. One of the criteria they used to judge the job's desirability is salary.
In this featured guide from Remotely, we'll show you the salary and benefits packages that UX designers can get. And using this data, you can decide for yourself if a career in UX design is something that you would want.
UX/UI designer salary data presented here is valid as of November 9th, 2022.
What's the Verdict on UI/UX Designer Salary?
On average, a UI/UX designer in America makes about $80,716 per year, which includes $75,011 in base pay and $5,705 in additional pay (performance pay, various bonuses, stock options, etc.)
But depending on various factors like your skill level, education, and location, a UI/UX designer can be offered anywhere between $64,000 at the lowest to as high as $102,000.
Remote Design Jobs
Factors that Influence a UI/UX Designer's Salary
When you apply for a remote UI/UX designer position, your actual salary will vary depending on numerous factors. The most decisive are:
Academic Experience
UI/UX design is a job that requires technical knowledge and an exceptionally creative brain. So, most job postings will require the candidate to have at least a bachelor's degree in a UI design-related field.
And sure enough, to meet up with this demand, 82% of UI/UX designers have at least a bachelor's degree. Within that group, 31% either have or are working toward a master's degree.
But what about the remaining 18%?
You'd be surprised to learn that you don't necessarily need a college degree to enter the UI/UX design industry.
Sure, you'll have a harder time hearing back from potential employers than your fellows, who are college graduates. But if you have a good-looking design portfolio containing samples from previous projects or jobs, some employers may be willing to overlook the lack of academic training.
And since they're basically taking a risk on you, if you don't have a college degree, your salary may be potentially lower than other designers who do. Without a college degree, you'll be earning in the range of $40,000 to $60,000 in your first year.
Relevant Working Experience
Similar to most jobs in the design industry, the more work experience you have and the more finished samples you've got to show, the more willing employers will be to pay you.
Typically, a junior UI/UX designer's salary is around $71,940. It's on the lower end of the scale since junior-level designers usually have less than a year of experience.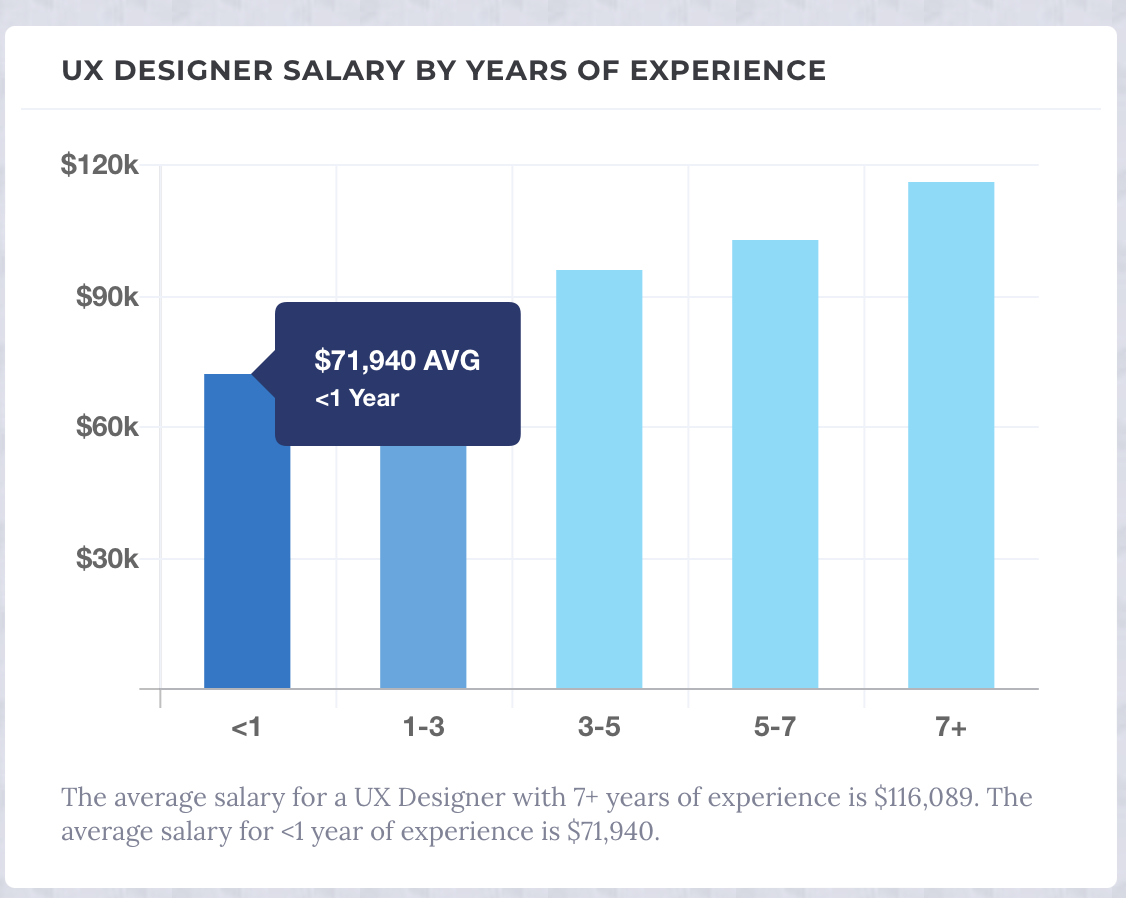 Once you've gotten off the ground and have over two years of working experience in the business, along with some good design samples to show, you can negotiate for better pay. The average UI/UX designer with 2 to 4 years of experience makes an average of $80,304.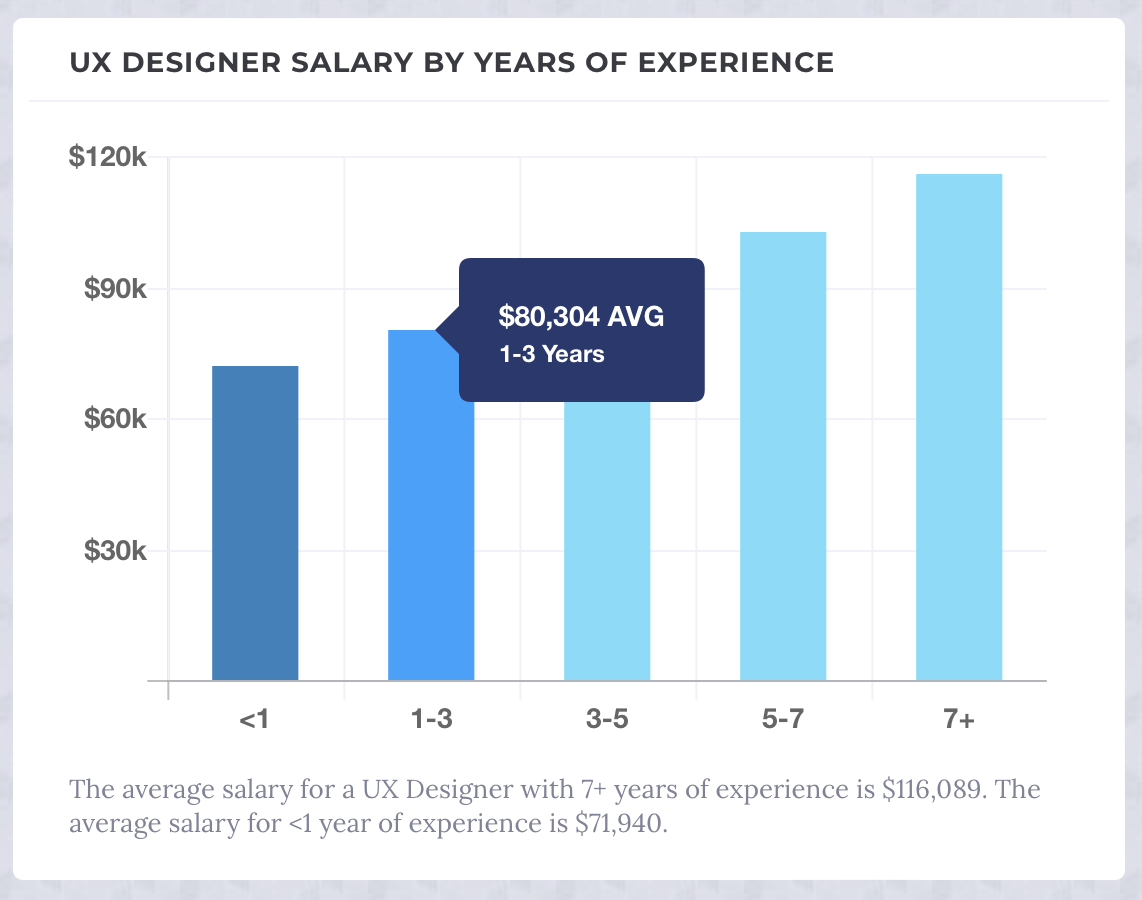 Senior-level UI/UX designers with over 20 years of working experience can make over $116,089.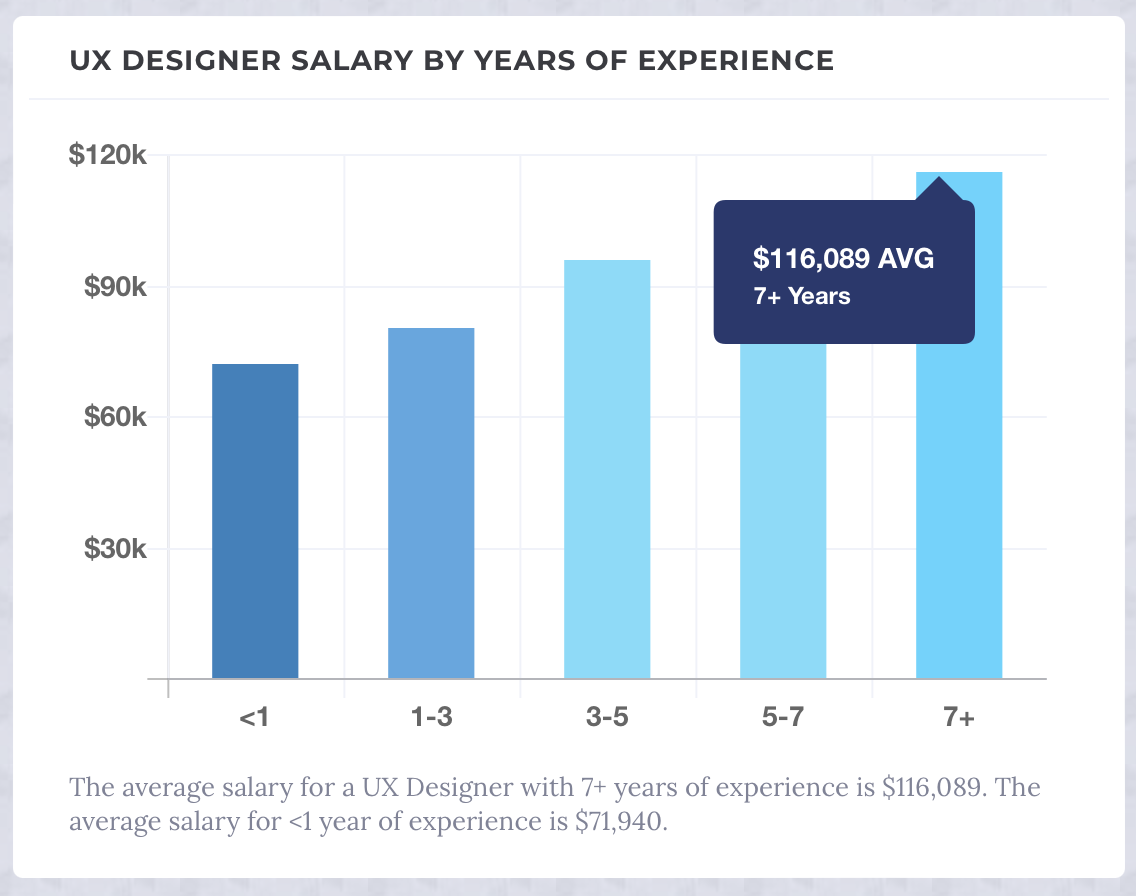 Location
Remote UI/UX designers can work for companies worldwide, and depending on where you're located, companies will adjust your pay accordingly by looking at the local cost of living. This is called location-based pay.
If you live in an area with a high cost of living, employers that use location-based pay will likely pay you more than a designer who lives in an area with a low cost of living.
For example, if you're based in New York City, you'll get paid more than a remote UI/UX designer based in, say, Mobile, Alabama.
To better contextualize that, NYC's average UI/UX designer makes $127,869. Meanwhile, the average salary for the same position in Mobile, Alabama is only $108,962!
If you're planning a move anytime soon, here's a list of cities with the best salary for UI/UX designers.
| | |
| --- | --- |
| City | Annual Salary |
| Atkinson, NE | $116,426 |
| Green River, WY | $114,474 |
| Stamford, CT | $112,172 |
| Bellevue, WA | $111,331 |
| Belgrade, MT | $110,617 |
Negotiation Skills
If you have a decent amount of working experience and a nice portfolio to show for all of your years, it'll be a good idea to haggle over the salary when you're given a job offer that seems low. If you do, research carefully and build a good case on why you deserve more than they're offering. Put special focus on your qualifications, talents, past working experience, and the benefits that you can bring to the organization.
And while you're at it, a good trick to ace salary negotiations is to highlight skills that they look for in an ideal candidate for the UX/UI design position.
Problem-solving ability
Good communication skills
Able to work well in a team
A portfolio filled with good design samples
 
Do UI/UX Designers Feel Fairly Compensated?
Interestingly, from reading salary reviews of those in the business, one particular review stood out. A Product Designer (comparable with UX designers) shared that even though they have no formal training and are 100% self-taught, they landed a job offer with a base salary of $85,000. After an increase in pay scale, they're making $93,000 a year.
Another example can be seen from an Associate UX designer who graduated fresh out of UX design boot camp and has less than a year of working experience. Despite that, they're offered a job with $62,000 base pay. Including bonuses, their role paid $72,000 a year.
So, it can be said that as long as you display the talent and have the necessary skills for the job, employers will be more than willing to exempt you from the formal education requirement.
Most reviewers also enjoy the non-cash benefits that companies are willing to give out to UX/UI designers. You'll typically receive all the regular benefits of a corporate position (health insurance, 401k plan matching, stock bonuses, maternal & paternal leaves, etc.)
UI/UX Designer Average Salary Levels by Seniority and Years of Experience
Below is a table showing the average total salary of a UI/UX designer by seniority and years of experience, according to Glassdoor.
| | | |
| --- | --- | --- |
| Seniority | Years of Experience | Average Total Salary (Per Year) |
| Junior UX/UI Designer | 0-1 | $79,364 |
| Mid-Level UX/UI Designer | 2-4 | $98,231 |
| Senior-Level UX/UI Designer | 2-4 | $140,516 |
| Principal UX/UI Designer | 5-7 | $212,518 |
An entry-level UX designer's salary makes $79,364 per year on average. For a position that doesn't require a college degree to get a foot in the door, that's pretty decent pay.
After at least two years at the company, you'll be eligible for promotion to mid-level UX/UI designer, bringing your salary to $98,231 per year. Depending on how well you perform during your tenure, with the addition of performance pay, you may be able to cross the $100,000 threshold.
Once you're promoted to senior level, you'll easily be above the $100,000 threshold for good. The total average compensation for senior-level UX/UI designers is $140,516. Notably, most companies will allow you to be put up for promotion to senior-level UX/UI designer with only 2-4 years of experience. Whether you get the promotion depends on your performance, talent, and work ethic.
After five years, you can gain a promotion to management. As a principal UX/UI designer, you'll be able to bring home $212,518 a year.
Total UI/UX Design Compensation
Besides hard cash, you'll usually enjoy many non-financial benefits and perks. Let's say you work as the UI/UX designer for Apple.
Other than stock options and bonuses, the company will sponsor your health insurance, life insurance, Health Savings Account (HSA), and Flexible Spending Account (FSA). They also provide 401k plan matching and equity incentive plans.
Gym memberships and employee discounts for all Apple products are given to all employees.
Overall, wherever you work, you can expect to be given all of the standard benefits of any corporate job.
How Do UI/UX Designer's Salaries Compare to Other Jobs?
| | | |
| --- | --- | --- |
| Position | Salary Range (Avg) | UI/UX Designer Salary ($80,716) |
| Graphic Designer | | Above |
| Information Scientist | | Below |
| Copywriter | | Above |
| Marketers | | Above |
These are some of the jobs that have transferable skills in UX/UI design (and vice versa). And out of all, information scientist is the only job that pays more than UX/UI design on average.
Information scientists typically deal with technical and academic subjects, like protecting and manipulating information. Due to the required knowledge and skill, it's little wonder they're paid more lucratively.
Except for an information scientist, UX/UI design roles demand more skill and dedication than all other jobs on this list. Combined with the fact that UX/UI designers are in high demand, it's easy to see why their salaries are so attractive.
How Do UX/UI Designer Salaries Vary in Various Companies
| | |
| --- | --- |
| Company Name | Total Salary Range (Avg) |
| Cisco Systems | |
| Microsoft | |
| IBM | |
| Walmart | |
| Deloitte | |
Tech companies that sell software and computer-based services, like Cisco Systems, Microsoft, and IBM, pay their UX/UI designers well over the average. Because the products they sell depend massively on a good user interface. UX/UI designers' work is extremely valued in these companies.
On the other hand, companies like Walmart and Deloitte, whose products aren't software, don't need UX/UI designer skills as much.
But that doesn't mean these big companies underappreciate the work of their designers. Despite the pay not being nearly as good as tech companies, both Walmart and Deloitte still pay well above average.
Start Searching for Your Next Remote Job with Remotely
The WFH movement is larger now than ever. Everywhere around the globe, professionals from many industries—including UX/UI design—are shifting their work models from 9-to-5 at the office to a flexible working schedule while working from home.
If you want to be a part of the growing community of remote UX/UI designers, you can start searching for the perfect remote working opportunity here via Remotely's job board.