High-paying work-from-home jobs are attracting the attention of countless professionals from virtually every industry.
In the past, working from home used to be little more than a dream for many employees, especially corporate ones who were required to report to work physically. However, the advent of cloud computing prompted a rise in remote working opportunities.
According to McKinsey, 35% of traditional job-holders can now work from home full-time, and the freelance landscape offers even more opportunities for high-paying remote jobs.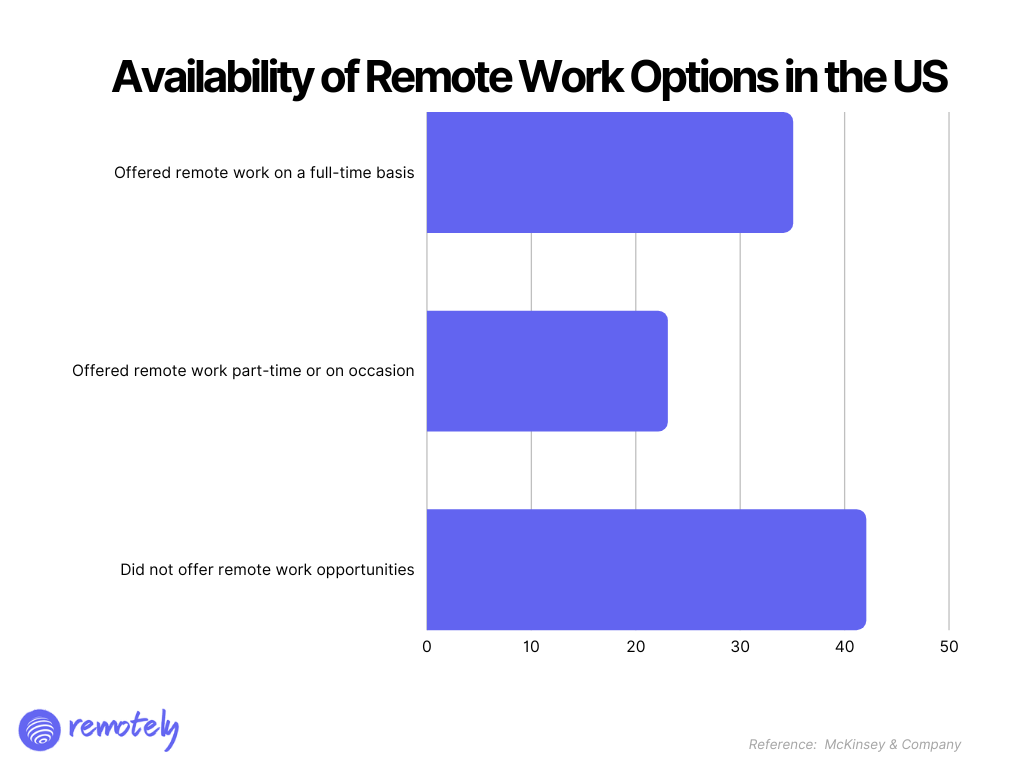 Source: 
McKinsey
Many employees even believe working from home makes them more effective and productive in their role. 53% of employees say they have fewer distractions at home, and 78% say they enjoy better work/life balance.
There's a big misconception however that working from home means gaining all these perks comes at a price—literally. Many believe that choosing to work remotely means you're going to have to take a significant pay cut as well.
However, the average monthly wage for a work-from-home role in 2022 has increased to $4791 per month or around $57,496 per year in the United States. Not to mention, working from home means you have the opportunity to cut down on expenses like the daily commute and other peripheral expenses.
So, what are the top high-paying work-from-home jobs?
The Top High Paying Work from Home Jobs
There is no shortage of online jobs that pay well in today's economy.
Depending on your skill set, you can earn a fantastic income, while leveraging all the benefits remote work has to offer.
Let's explore some of the top jobs with the most lucrative salaries.
High-Paying Managerial Work from Home Jobs
Project Manager
PayScale Salary: $51-116k
One of the top high-paying work-from-home jobs for those with leadership skills, a Project Manager can earn you a sizable income of over 6 figures per year. Project Managers are involved in overseeing operations, processes, and plans linked to crucial business projects. You may be responsible for organizing other team members, tracking budgets, and ensuring deadlines are met. You'll need to be able to collaborate with other workers and deliver detailed reports.
Product Manager
PayScale Salary: $61 – $127k
Product Managers are specialists responsible for helping to bring new products and solutions to market. They conduct extensive market research, create roadmaps for development, and organize the rest of the product development team. As a Product Manager, you'll help to define which features should be present in a product by analyzing current market conditions and trends. You'll also work to ensure the features of a product meet with all current safety standards.
Senior Project Manager (IT)
PayScale Salary: $86- $152k
Ideal for those with a more technical mindset, the Senior Project Manager role in the IT industry involves overseeing information technology projects and timelines. Professionals in this field need to be adept at working with a range of technologies and keeping track of the latest trends in the marketplace. Senior project managers may need to know how to navigate a data center and should feel comfortable making presentations and reporting their findings to executive board members.
Sales and Business Development Work from Home Jobs
Senior Sales Executive
PayScale Salary: $48- $137k
A Senior Sales Executive is a high-level position for someone with a strong background in sales. If you have a strong track record of success of converting customers, and you demonstrate strong leadership skills, this could be the role for you. Senior sales executives guide the sales team, and help to plan sales strategies for the business to increase conversions. They also know how to research new markets and pinpoint opportunities for business growth.
Business Development Manager
PayScale Salary: $47- $126k
If you're looking for online jobs that pay well and you don't mind a challenge, this could be the role for you. Business Development Managers work on creating strategies and business solutions for companies. They research and evaluate the marketplace, looking for new opportunities for companies to increase revenue and sales. Business Development Managers often spend a lot of time collaborating with other teams on strategies to boost brand loyalty and customer satisfaction.
Channel Sales Manager
PayScale Salary: $51-$123k
Channel Sales managers are responsible for organizing and completing deals with third parties and vendors. Channel sales involve working closely with a range of other groups, such as resellers, and affiliates, so these professionals need excellent communication and interpersonal skills. In some cases, a channel sales manager will hire resellers to support the business, and train team members to deliver the best results. They also help to build guidelines to ensure a business is properly represented.
Senior Account Manager
PayScale Salary: $53 – $113k
Ideal for those in search of high-paying remote jobs which revolve around relationship-building, the Senior Account Manager role is all about connecting with VIP clients and customers. These professionals focus on serving the needs of specific accounts critical to a company's revenue. They conduct research to understand client requirements and needs, generate sales opportunities, and even provide training to other members of the sales team.
Developer Online Jobs that Pay Well
Web Developer
PayScale Salary: $42- $90k
A web developer is someone who builds the behind-the-scenes technology responsible for ensuring a website or application can run as intended. This role often requires a degree in computer science and coding. In this role, professionals test and document website software, work closely with web designers and content producers, and even write code for web pages.
Mobile applications developer
PayScale Salary: $49- $124k
As people continue to increase their investment in smartphones and mobile devices, the role of the mobile developer is growing increasingly popular. If you're looking for high-paying work-from-home jobs which focus on application building and coding, this is the role for you. You'll spend most of your time working on apps and code for Android and iOS apps. You may also be responsible for fixing bugs and rolling out app updates.
Front-end developer
PayScale Salary: $51-$119k
A front-end developer is someone in the programming world who focuses on the "front-end" experience of an application or website. In other words, they work on the parts of a digital product other people can interact with. These professionals document code, improve user experience and user interface design and work with programming in a multitude of languages. They also work on fixing mistakes which could reduce customer experience.
Java Developer
PayScale Salary: $54k-$117k
Among the most popular languages in the web development world, Java is the technology developers use to create complex and interactive applications. Java functionality is common in eCommerce websites, so you might find yourself working extensively on online stores. Java developers often work with both front and back-end coding at the same time, to ensure applications can work as intended.
Full-Stack developer
PayScale Salary: $56 – $118k
One of the most in-demand jobs in the developer landscape, the role of the full-stack developer delivers an average yearly wage of over $80k! Full stack developers work on both the front and back end of websites and applications. This means they need extensive experience with UI and UX testing and functionality. They also need to be able to use a range of different coding languages.
High-Paying Remote Jobs in Marketing
Marketing Consultant
PayScale Salary: $40k-$113k
One of the top high-paying remote jobs for those with marketing skills, the role of the marketing consultant can be done from anywhere. Marketing consultants are responsible for examining the marketing landscape on the behalf of a client and delivering advice on how to produce advertising campaigns. They help with forming online and social media content, as well as other online marketing strategies, often on a freelance or contractual basis.
Marketing Director
PayScale Salary: $51- $152k
A marketing director is responsible for managing and organizing marketing tasks on the behalf of an organization. They research market opportunities and oversee the creation of marketing assets and tools. Their main duties include developing concepts, projects, and budgets for marketing campaigns. These professionals can also spend significant time resolving team issues, and analyzing the results of various marketing projects.
Product Marketing Manager
PayScale Salary: $64k- $133k
Product marketing managers are experts in the products sold by a specific business. They develop comprehensive strategies on how to present new and existing products to the public. As a product marketing manager, you'll also be responsible for overseeing how the product is depicted in press releases, advertisements, and campaigns. These professionals can even work on product campaigns on a global level for a single brand.
VP of Marketing
PayScale Salary: $93- $209k
A VP or Vice President of Marketing is a highly trained executive or board-level director responsible for overseeing the full marketing department in a business. They ensure strategies are in place for the presentation of company-branded assets and products. They even play a role in determining the pricing and discount structures for certain products. As a VP of marketing, you may need to analyze marketing campaigns, set team goals, and prepare reports.
High-Paying Remote Jobs for IT Professionals
Cyber Security Analyst
PayScale Salary: $54- $116k
If you're both a security expert and an IT enthusiast, this could be a high-paying work-from-home job for you. A cyber security analyst is responsible for analyzing computer networks and systems in a business, searching for potential security threats and breaches. You'll need to research and understand common security trends, and create plans for business continuity and disaster recovery.
Privacy Officer
PayScale Salary: $61- $139k
A privacy officer is a professional responsible for ensuring everyone else in the business follows the correct rules and guidelines for keeping data safe. These professionals create best-practice privacy guidelines for the rest of the team and perform audits to ensure compliance. Privacy officers can also spend their days conducting risk assessments, and implementing strategies to ensure companies don't fall victim to cybercrimes.
Cloud Architect
PayScale Salary: $87- $168k
As companies transition into the cloud for storage and communications, cloud solutions architects are earning increasingly high wages. As a cloud solutions architect, you'll be responsible for assessing the cloud environment of your company and making sure the right strategies are in place for security. You'll also be responsible for monitoring the performance of the cloud, setting up cloud adoption strategies, and tracking the performance of cloud networks.
Senior Solutions Architect
PayScale Salary: $103 – $157k
Senior Solutions architects are responsible for planning and creating a range of tools and services to support end-users and clients. They act as the lead on business development sessions and lead brainstorming sessions with the rest of the technical team. As a Senior Solutions Architect, you may also need to prepare testing scenarios to examine the quality of certain campaigns. Senior Solutions Architects also coach and mentor other team members.
Technical Support Manager
PayScale Salary: $53 – $124k
Technical support managers are the people who lead the rest of the team responsible for offering technical support to end users. These specialists perform evaluations, create reports, and search for the causes of common technical problems. In this role, you'll need to oversee the daily operations of other technical experts and ensure everyone is maintaining the highest performance metrics. It will also be important to keep up with changing technology trends.
The Top High-Paying Work from Home Jobs
As high-paying work-from-home jobs become more commonplace, there are countless opportunities to find an incredible role related to your field. Working remotely is being adopted by so many employers that you're likely to find job postings in industries such as engineering, healthcare, and education too.
The key to success is knowing how to search for a job, which pays what you're worth. Making sure you have access to a range of job boards, and constantly updating your online profiles to showcase your skills will be important to make sure you can earn the right salary.
Remember, your LinkedIn profile will be an excellent resource when you're applying for online and remote jobs. Plus, you'll need to have a good understanding of how to present yourself in video interviews too.
Check out plenty of high-paying remote job opportunities already listed on Remotely.